December 2017
This is proving to be a very cold winter season, Temperatures are projected to be near zero over the holiday period. Snow has accumulated early on requiring numerous shovelings. Going south for the winter is a long way off and making the necessary preparations are difficult. As we near Christmas there has been no relief in temperatures, 0 to 10º.
December 24, Sunday 2017 - St Clair Shores, MI
Christmas Eve at Grandma's. With our youngest Grandchild almost 20 years of age and the great grand children all home sick with colds. Our oldest son, Glenn, called to say he and his wife are sick with cold/flue and sadly he will have to miss his first family Christmas since his birth over a half century ago. It was logical to think Santa would bypass Grandma's for the first time in many many years. Well after a super great dinner and way to many drinks there was a burst of laughter as Santa appeared with bag in tow leading the gang to the rec room for gifting. The Children would be proud see how all ALL the adults took there turn to talk and share with old Saint Nick. Here are all Christmas photos to see here, you can see why Santa said this is the last home on his route. .

December 29, Friday 2017 - St Clair Shores, MI to Shephardsville KY Grandma's RV 396 miles gas $2.55
After Christmas we faced the bitter cold and took the outside decorations down, then is was to start de-decorating the interior and then packing to go. It was Thursday afternoon, with a whole lot of the packing-up done, we heard the weatherman say "Cold temperatures will be with us another couple weeks.) Hearing this Mom said maybe we should head south tomorrow (Two day ahead of our normal departing dating, can you believe?.)
Friday morning with another inch on fresh snow on the ground and more on the way we headed south. Flurries where in the air with limited visibility we drove on. With the Rouge River bridge shutdown we took the recommended detour which was I-94 to I-275 south back to I-75. While we were heading west near Metro the snow stopped and the was a little sunshine peeping through the clouds. Trip across Ohio was uneventful other then headwinds for half the trip. We arrived at 'Grandma's RV' about 5:20 pm and parked next Dick & Brenda. They were totally surprised as they knew we always departed New Years Eve.
Temperature was 44º this night and 38º when I woke. This is good we must be out of the cold. So I filled our water tank and flushed the the pink stuff out.
December 30th, 2017 - Shephardsville KY to Tupelo MS Barnes Crossing RV fee $39GS 365 miles gas $2.59
9a.m. we are on our way, first stop is at Love's for gas and propane. Talking with the filler-up man about the cold weather here, he responded with "Yes dam cold and in the teens tonight." Groan! Once on the road I asked Siri What's the temp in Tupelo MS? 45º with the nightly low in the mid twenties. I told Mon this is not good, we don't usually go as far as Tupelo. Checked the maps to see if I could shorten/quicken the route we always take down, the Natchez Trace. I decided on expressway most all the way. That's I-65 to I-40 to TN 22 to MS US45. The route was a little longer but we got to Tupelo in about the same time we take to get to Meriwether, in Tupelo we have full hook-ups. We pulled into Barnes Crossing RV at 4 p.m. on the dot.
December 31st, 2017 - Tupelo MS Natchez MS River View RV fee $24PA 297 miles gas $2.39
Drained the water tank last night as temperatures were suppose to be 24º till 10:00 a.m. Well when we got up at seven outside was 36º.
We jumped on the Trace with no traffic and cloudy sky, Mom said it was an easy drive. We lunched in a scenic overlook and checked in to River View RV at 3:10
January 1st, 2018 - Natchez, MS to Bolivar Peninsula TX - Bolivar RV fee $16PA 286 miles gas $2.19
Happy New Year
Cold but a good day for a drive, sunshine, slight tail breeze and smooth roads. Temperature similar to yesterday only a degree or two warmer. Decided to skip Gulp View RV and continue on to Bolivar Peninsula (Galveston TX area.) 32º this evening....
January Tuesday 2nd, 2018 - Bolivar Peninsula, TX to Rock Port TX Ancient Oaks RV fee $29GS 205 miles gas $2.09
Cloudy and cold all day long. For a short time, driving through Galveston, we had frozen rain bouncing off our windshield, very fine droplets that were blown off to the side of the road leaving the shoulder with a slight white blanket. (pic)
We decided to spend the night in Rockport, the landfall point of Hurricane Harvey. When Mom called ahead for a reservation we selected the first RV park that answered the phone with space available. Ancient Oaks is a frumpy old park, but for one night we decided to stayed. 39° this night. Tomorrow Fun N Sun RV Park our most southern destination this year.
Hurricane damage was very evident with trash about and trees broken and laying around. Some building damage but not as bad or as many as I thought it would be. Some RV parks were totally empty while others appeared as no hurricane even went through. Ancient Oaks has a lot of older units, so I assume they survived the storm.
Our car and rig is so covered with dirt it must be costing us a couple of miles per gallon due to the drag (pic.) I hope we can do a drive through wash before Harlingen, suppose to be sunshine and warmer tomorrow.
January Wednesday 3rd, 2018 - Rock Port TX to San Benito TX - Fun N Sun RV I-16 fee $569mo+E 168 miles gas $2.29
Radiant sunshine and mild weather, didn't go below freezing for the second night in a row. Mom drove the last 150 miles right up to the guard house of Fun N Sun. I went in and registered only to find the site we wanted was reserved. Counter lady, Brenda, said find a site and come back, I explained I cannot drive around the park until my vehicles are washed, I have go to the wash rack first. Brenda said "Since you know your way around the park I'll assign you a site and then after your wash job pick your site and come back so I can change it."
After the hour wash job, we pull up to Charlene & Phil's place where she graciously told us to use their golf cart and find a spot. We found a nearby site, I went back to the office made the change and returned were Charlene said why don't you just use our extra car lot, we are using this another spot and ours is vacant and then you can use our WiFi. Back to the office changes made and finally got some what settled in.
Anita was over greeting us when Mom said she was hungry, plans were made to Los Asados's for dinner. Excellent eating and lots of conversation before we headed back. Mom was in the sack by 7:, I managed to make it to 9:30, that's 10:30 back-home time.
January Thursday 4th 2018 - San Benito TX - Fun N Sun RV I-14
Happy Birthday Glenn
What a perfect day, our outside thermometer read 72° with sun all day. We started out at the square dancehall where I filled in for a few tips as they were short a man. We got in a lot of talking and catching up with some of the Winter Texans we know. The two hours went by in a hurry before we knew it we were at one of the better Mexican restaurants, Blanquitas, with John & Anita and Nick & Dee for lunch.
"La Especial", the nearest good bakery had a fire and will be closed for some time. John who enjoys "little pigs", some type of molasses flavored in the shape of a brown pig, though we should run out to Ornelas Bakery and pick some up. We of course picked up a few treats as well.
It is Bingo night but we still have some unpacking and laundry to do so we passed up Bingo. Talked with two of the boys today, Glenn's birthday wish and Craig's drive to Florida.
January Friday 5th 2018 - San Benito TX - Fun N Sun RV I-14
Total relaxing day. Puttered with the camper on and off. Mom went over to do some crafting, looks like in interesting project, needle, thread and material. We joined John & Anita for dinner at the Blue Marlin where they serve some very good fish. Easy day...
January Saturday 6th 2018 - San Benito TX - Fun N Sun RV I-14
Garage sale at the Rec Hall first thing this morning. Mom came back with small leather purse for $2 and a wind up timer she needed for 25¢. Of course something for the camper Mom said we need "A nice steel step that folds up, and is larger then what we have." So over I went and looked at this $79 step that was price at $25 but Mon negotiated to $20. Looked worth the money so now we have two steps.
John Picked us up in the early afternoon to do Jackson Street Days in Harlingen. Three blocks are shut down and the streets are filled with various vendors. We shopped both sides of the street, listened to the live entertainment and stood in line for a half hour to buy freshly popped bag of kettle corn.
Caller Nick & his wife Dee invited the four of us over his place to play some cards. We all met at Stefanos Brooklyn Pizza place for dinner, excellent eating, before cards started. I don't know what caused the special atmosphere of laughter, unless it was the sip of my Manhattan that Mom had, but we all laughed all evening long as Mom lead the chorus. The one hour game of Red Neck Rummy took us four hours to finish, I think we all will sleep well tonight.
January Sunday 7th 2018 - San Benito TX - Fun N Sun RV I-14
Overcast today. We took a ride with J & A out to South Padre Island today via the longer southern route. We drove along SR48 and observed several miles of an installation of an above ground pipeline. We understand it's a natural gas pipeline to Mexico. 168 miles of what appears to be a 42" pipe.
On South Padre we stopped at the Convention Center to visit the SPI Market Days. Lots of vendors and lots of goodies. After fulfilling my walking needs I grabbed a bench next John. We settled world problems while waiting for the women to finish their exercise. Mom finally showed up with new sunglasses and a new watch.
On the island we stopped at Louie's Backyard for early dinner. Mom did Ribs and for me it was a patty melt. Service was slow for an empty restaurant but the food was very good, we enjoyed the time.
This is Sunday and ice cream and entertainment start at 6:30 p.m. and it's on our menu. The Rec Hall was full, must be 400 to 500 folks in here. Can you believe this, with 8 tables serving ice cream with at least 3 three servers at each table each all with a different flavor. Each table was announced over the PA as to what flavor they had, you make a mental note and wait. Then one row at a time folks marched down the center isle paid their dollar and were given a large dish (pic) which you took to your destination table and got filled sometime stopping for more then one flavor, I did chocolate & French Vanilla. Everyone was back in their seat by 7:00 p.m. that took a half hour for the whole group.
This is free entertainment night and tonight we had a male singer and a drummer accompanied by computer. They were fun and the group enjoyed them with dancing in the isles, singing along and showing support. They called themselves Music Town, local group. I didn't get any video or pictures as my camera appears to have a very serious problem. Don't you know the spare I always carry is back home. Maybe I'll just use cameras and Go Pro, we'll see.
January Monday 8th 2018 - San Benito TX - Fun N Sun RV I-14
Bright sunny warm morning puts one in a good ambitious frame on mine. First things first, check on line for my camera options, 1. send out for repairs ($140 plus parts) 2. replace lens/chamber ($80/$170 DYI time & tool, too long time.) 3. Buy used in very good condition. ($120/$280 2 wks hmmm.) 4. Buy new same replacement of camera that I pd. $420 now sell for $650 (ouch!.)
Mom an I outside puttering around, extra hose out, waste line connection on, chairs out, bikes off and cleaned, when company arrives via golf cart. Cookies and coffee to discuss world events and things to do with John & Anita. By the time we got a handle on things it was time for a late lunch, off to Chapitia's for their Monday specials. Later in the evening Cards were planned, Euchre (First known use 1835.)
January Tuesday 9th 2018 - San Benito TX - Fun N Sun RV I-14
Tuesday morning dance at Lakewood RV, six squares dancing. Looking back at 2005 Tom Roper was calling to over twenty squares at the same morning dance. I find it hard to understand why the generation of 50 year olds don't find the fun of square dancing, good friends, good clean fun, with good exercise.
Dance ending at noon, we went over to Don Kucos (Mexican) for lunch with Nick & Dee and John & Anita. We always have a few chuckles over lunch with these guys. Back at the park Mom went over to the laundry so she could be back for the light dinner Fun N Sun is hosting to "Welcome Back Winter Texans." We got to the dance hall half hour early and had a time finding seats for the four of us. There had over 800 to serve and did it all in a half hour. They had a band playing and dancing was on the menu. We had our dancing for the day so it was a quiet evening back at the rig for us.
January Wednesday 10th 2018 - San Benito TX - Fun N Sun RV I-14
Happy Birthday Bill
Genealogy session this morning, very knowledgeable an enthusiastic speaker who presented a ton of information and procedures to organize family information. This for me was totally confusing because of no knowledge of DNA. She did convince me of how significant this correlation of data is in tracing your roots.
Lunch afterwards at Chick Fil A, then finally a stop at Mc Donalds on the way home for ICE CREAM! A great day Huh. Spend the rest of the day trying to understand what cM means/does in DNA data. (centiMorgan Values).
Here are a couple of web addresses for Family Tree enthusiasts. Genetic TGG & USA profile
January Thursday 11th 2018 - San Benito TX - Fun N Sun RV I-14
Morning square dancing was with just a few squares. Dancing ending at noon so a dozen of us headed over to Los Nortenos. We, in the past, would enjoy their Turkey Plate Special, which became very salty. Over the year someone said something hence the visit to see if things were right. The reality I could have used a little salt on my plate. Table talk went well and with nothing else on our menu we headed back to park for a relaxing evening.
Mom & Anita went over and did a little shopping, I did some small RV jobs and bathed the pooch. Cold front is to blow through this evening and change our 84° to 44° during the night with a high of 65° for Friday. Around 9:00 p.m. winds were hitting 40 mph. At bedtime they had calmed to 15 to 20 mph so sleeping will be OK.
January Friday 12th 2018 - San Benito TX - Fun N Sun RV I-14
Winds had died down by bedtime and it was quiet the rest of the night. Cool this morning but with sunshine and very little wind it warmed to over 60° before lunch. Went over to see Sharon this morning to sit in on some computer info sharing. Most of the two hours was spent on windows 10 menu icons. Nothing that I was really interested in but enjoyed be with computer savvy folks. While in class I check the shipping log for my replacement camera and found it had arrived here at 7 a.m. After the school bell rung I walked next door to our post office and picked up a package.
Before I could check out my package the four of us headed over to Stefanos again. We were joined by Mom's instructor Pat & husband Glen of a project that she is undertaking, some crafty thing. Stefanos has a $5 lunch menu where I found stuffed mushrooms, I jumped on that and enjoyed them. Another good meal to markup for Stefanos. Our guest treated to a pizza fruit desert that we all enjoyed very very much.
Back at the rig, I found a used camera like mind on line with a defect that reduced the price by 50%. The rotating button on the back that you use to change from one picture to another and also select different commands was not working properly (by not letting one select a menu item to change). My interest was to use the camera for parts, because everything else worked perfectly, I could still take pictures then when I get home swap out the lens chamber.
When I opened the package I found what looked liked a brand new camera for $120. I ran the lens in and out took some picture then evaluated the rotating button problem. The problem made changing setting extremely difficult, even when viewing, going from one picture to the next was almost impossible.
I borrowed John's micro Phillips drivers and took the camera apart. (You-Tube has a good video on disassembly). I loosened a couple of strap-cables and then reconnected them, then put it all back together. Next was to get in to the menu and trigger a new set-up. Lastly restart. Well well well, everything works perfectly I now have a almost brand new camera (pic) that works. I'm Happy!
Bridge walk tomorrow morning, Port Isabel to South Padre. Temperatures near freezing in the morning, I assume we'll pass on the walk.
January Saturday 13th 2018 - San Benito TX - Fun N Sun RV I-14
Nice morning so I decided to crawl under the camper to identify a light squeak we heard every time we walked up our stairs. Mom stood and jiggle the step while I looked and listen and found the muffler was wiggling and making the squeak. I found a rusted hanger that wasn't hanging anything (pic). I'll have to fix this or maybe the muffler will come down.
John stopped by looking to run up to Home Depot so I joined him for the short ride. He picked up a hose clamp for a house plumbing repair. I asked to stop at the Ford dealer to see if I could buy a hanger. After a long computer search at the service desk I was told the the muffler hangers are no longer used and marked obsolete, NAV. I guess I'll have to jury rig something to insure against further damage.
Pushing 2 p.m. Mom suggested lunch so we drove over to El Gallito's, nearby on bus 77. Enchiladas for me and Mom did the same. After we settled all the world problems we head to Walgreen's for a script then a stop for desert at McDonald, ice cream of course.
Bindi walk and that's the day....
January Sunday 14th 2018 - San Benito TX - Fun N Sun RV I-14
Happy Birthday Mike
Beautiful morning, we'll be lunching in Raymondville (about 30 miles N. of here) at the Casa Blanca Restaurant. Family business for over thirty years. We been there several times over the years but today, Sunday, they serve their well known Sunday Buffet. Lots to chose from only restriction is only two meats to chose from four available. They gave us a plastic baggie for our second piece to take it home. A ton of good salads and food for $12.
We met Dwaine & Bert along with Nick &Dee and his close friends from home. Talked an ate for a couple hours then we were on our way home.
Sunday evening is ice cream at the Rec. Hall followed by free entertainment. You would be impressed, they serve ice cream to over 400 folks in about twenty minutes. Start serving ice cream by the row at 6:30 and at 6:50 we're waiting for the 7:00 entertainment.
Tonight it's Helen Russell & Co. (her husband) she sings and does big time banjo and he's plays base guitar. We enjoyed the show as Helen honors several other singers i.e. Willie (pic), Cher (pic) Minnie Pearl (pic). She is enthusiastic and full of go get'em making for a lot of entertainment. John & Anita stopped over after the show and talking about the performance Anita said this show was much better than the country band they paid to see the previous night.
If you click her link above then click 'Live Video' and play "Rawhide" (4th down) you can sample her Banjo ability, WOW.
January Monday 15th 2018 - San Benito TX - Fun N Sun RV I-14
Mom was over to the Rec Hall doing her knitting thing, I gassed up the car and stopped at the ATM. When Mom got back the four of us headed over to Harlingen to the Welcome back Winter Texans event, this is coupled with a car show.
They had the street blocked off in front of the convention center for the show. Lots of people attending this event we browsed around for a couple hours. I had to go back to the car for may camera because a trending thing got my attention, Old cars have been reconditioned to look "old." Fenders have been painted with spots made to look like the painted has wore off. Cars left rusty and made to look rot rod-ie. Definitely not my thing but some of the paint jobs got my attention. As I was taking pictures I'm hearing "Bob Bob Bob", I finally looked around and seen Dee and her company visiting the show (pic).
We left the show to head out for a late lunch. Since we were in the Chapitas area we headed there to eat. We got a table, placed our order, and just as we started to chow down, Nick & Dee and friends came in we invited them to join us.
Back at our park we walked Bindi then decided to see if our bikes still worked. We put on a few miles in the park and it felt good to ride. We took Bindi over to John & Anita's with us and played some euchre for the rest of the evening,
Cold snap coming in over the next few days but 80° again for the weekend. Tomorrow morning's temperature is to be the high of the day at 55°, then it's down hill to 30° for the next morning with some wet weather thrown in as well.
Car Show pictures.
January Tuesday 16th 2018 - San Benito TX - Fun N Sun RV I-14
Dancing at Lakewood this morning, only four squares may be due to the extreme weather, 50° when we awoke and by noon is was down to 35°. After the dance 8 of went to Los Asados's for lunch, one quick stop at Home Depot for John and then home to make sure we are ready for a freeze. We stopped the LP gas man and asked to to be filled and that was our day.. Thinking we'll doing about the same tomorrow with a slight rise in temperatures.
January Wednesday 17th 2018 - San Benito TX - Fun N Sun RV I-14
Dropped to a little below freezing last night. They shutdown I-2 this morning due to the light freezing rain, I had disconnected and drained the water hose last night, it turned out to be a good idea. This morning I went out and turned on the faucet, nothing came out. We just used the water in our tank so no inconvenience. This after noon it warmed to 42°, I went out turned the faucet on, water flowed, reconnected and all is back to normal. This is supposed to be the worst of the weather a little warmer each day now till 80° this weekend.
We loafed all day. Mom made some pea soup and that was the most work all day. Made a run to Wal Mart's and Walgreen's then home for the night.
January Thursday 18th 2018 - San Benito TX - Fun N Sun RV I-14
Dance this cold morning then ten of us went to Los Nortenos for lunch. Nothing planned for this overcast day so Mom headed over to do laundry and I took Bindi for her longest walk so far and the was still under two miles, hmm. The 40°s with a little wind made for a cold venture out.
January Friday 19th 2018 - San Benito TX - Fun N Sun RV I-14
Weather has again turn the corner for the better, still cloudy all day but the temps reached the 70s. Weekend looks like it will be perfect.
Mom and Anita went bumming around while John and I tackle a floor problem. John just had a lot of remodeling done last year including new laminate flooring. Appears while they vacationed during the hot summer, upon there return, the new floor had buckled up and separated. Contractor was called back in and said "Huh, big bucks to repair." We took a close look today and after pulling the baseboard from the outer-starting wall it became apparent the contractor screwed-up. The new flooring was started tight against the outside wall and the direct opposite end was tight against the kitchen island, no room for expansions. We were able to pull the separations tight, but a good ¼ inch still has to be cut from the outer wall to prevent a reoccurrence.
The ladies finally returned and we all headed to Las Vegas Cafe for an outstanding meal. As you know I'm an enchilada person, every Mexican restaurant makes a different plate, but today this dish was just the thing. Three cheese an onion enchiladas, covered with melted mixed Mexican cheese browned to perfection, complemented with a bowl of Charro-bean, and a nice shredded salad. Ahh yes!
Yes it was so good that sometime during the night sleep I was quickly awaken by a strong reminder that the chips & salsa were extra spicy, Charro-bean bowl was more spicy then usual, and then that I covered all my enchiladas with a heavy layer of delicious spicy salsa.....
Yes I'll go back, it was that good, but I will have a better handle on all the spice to be sure!
January Saturday 20th 2018 - San Benito TX - Fun N Sun RV I-14
Sunny and warm, ah yes. Sat out on the lawn chairs absorbing vitamin D till sometime around noon. Mom was talking to some travelers about the county park we stay at on South Padre. There are big plans in the works for change in the park some call for the monthly rate from $450 to $650. Mom want to check out the park so see what's going on. A call out to John & Anita and we were on our way by a little after noon..
We decided to lunch before crossing the bridge to the Island, Pirate's Landing was our selection. Near the entry way we walked into a free roaming turtle (pic). We watched him roam around for a minute or so (pic). I wasn't too hungry as I studied the menu I found ½ pound of boiled shrimp on the appetizer list, opted for this choice. When the plate came to the table it was presented beautifully and as I looked carefully I discovered this was peal and eat. (groan).
Across the bridge the first stop was at the park and the noticeable change was that the protective roof over four traffic lanes was gone. Come to find out this is not part of the improvements taking place but a drunk construction person drove his truck into the supports one night and the whole roof collapsed. Here is what it looks like now (pic). As drove around the park the most noticeable changes were to a cluster of old wooden structures that house some activities and a refreshment area, everything has been leveled.
Yes it's warm out (pic). As we drove around the beach area and the various camp sites we were surprised to see how full the park was, as January is cooler and windy, over the past several years we found the park only partially occupied. I guess it's a sign of some prosperity.
Driving back to the park, as we were passing a storage area for large wind generator's fan blades, I stopped to checked the length. I paced off over 200'. If that blade was spinning at 10 rpm the tip would be traveling over 220 miles per hour. Checkout the hub connection (pic).
Yes we stopped at McDonalds. We sat outside and drink our coffee and had a baked good we had purchased on the way over, Ornela's in Rio Honda of course.
January Sunday 21st 2018 - San Benito TX - Fun N Sun RV I-14
Overcast for half the day. Mom an I went over to the antique fair that she and Anita stopped at other day. There were a number of old cameras that she told me about that I wanted to take a look at. I found that I had most of them and in better condition so we didn't linger too long.
On the way we back we stopped at Lowe's, Home Depot, and John Hardware looking for some things to insure our muffler doesn't decide to fall off, didn't find what I wanted. Back home Anita call to see if we were thinking lunch. We got together at Jason' Deli (nice buffet). On our way home we stopped at Tractor supply where I found a couple u bolts and bolt together couplers that should work nicely for what may be a permanent repair of the muffler. I'll have to get some specific dimensions to be sure I get the right size u bolts.
This evening after the ice cream social, we stayed to watch the Fun N Sun Actors but on a humorous short play. They did an excellent job and brought on a lot of laughter. It was a good day.
January Monday 22nd 2018 - San Benito TX - Fun N Sun RV I-14
First thing this morning I ran over to Tractor Supply to buy all the hangers I need repair the muffler suspension. I had to put repairs on hold as Mom had a need to be in Mexico this day. John drove today and we were walking the street of Progreso by 2:00 p.m. Did a little shopping, stopped at the coffee shop for a treat, then on the way out picked up a couple liters of Bombay and we were on our way.
Drove over to Willie's BBQ in Alamo for there Stuffed Bake Potato. Can you believe a baked potato so big that you would bring half of it ho me with you. Home by 5 leaving enough time to couch it.
January Tuesday 23rd 2018 - San Benito TX - Fun N Sun RV I-14
Dance day. Mom been pushing her knee a little too much so we decided to pass up dancing and just hang out around the park today.. Consumed our leftovers so we didn't even have to leave the Park to eat.
January Wednesday 24th 2018 - San Benito TX - Fun N Sun RV I-14
Genealogy for Mom this morning, Anita stopped by to see what's happening, we talked about Blanquitas for a lunch. Mom came and shortly we went for lunch.
Cloudy and cool not much motivation to do anything, we took Bindi for a walk around the Park, returned home to vegetate.
January Thursday 25th 2018 - San Benito TX - Fun N Sun RV I-14
Normal dance day but today caller Nick had to run to Florida for a calling job that he does every year. Good for Mom so she can take another break from dancing.
We took a run over to Walgreens and Wal Marts this morning and afterwards Mom suggested a drive to Costco to shop around. Gave Anita a call to see if they wanted to tag a long, she said she'll be ready in a half hour. Took the groceries home and then ran over to pick up John & Anita. No John. "What's up" I asked. John is busy hustling Table Tennis players for the Encore Games scheduled for mid February and has been over working his knees which now need rest. So just the three of us headed to McAllen to roam Costco while John snoozed.
We did a little shopping while stopping at all the food sample stations that dot the store. Now that our appetites have been tweaked we left the store and hunted for a restaurant. Low and behold right around the corner we found Bar-B-Cutie. We seen billboards for this place so we decided to try it. Inside we discovered that this is setup like a fast food joint with a bar and TVs. We said we'll give it try anyway. I order their St. Louis Ribs, girls had sandwiches, we all had water. After eating we discussed this placed and all agreed that it was over priced for what we got. Each item on the menu-boards is individually priced, which means 1/2 slab $9.75, small cole slaw $2.49, if I had small fries $3.95, if I had a drink $2.49, my bill would of been $18.68 + tax - $19.98. $19.98 for a small 4 bone rib dish. Groan. We beat the restaurant up pretty much all the way home.
Back at the park to a restful evening with Big Bang Theory...
January Friday 26th 2018 - San Benito TX - Fun N Sun RV J-14
Moving day? When we were checking in to the Park, our site from last year was taken for a few weeks, well today is the day they left. So first thing this morning Mom asks "Do you think we could move back to 'our' spot?" Groan. "Why of course sweetheart." Biked up to the office explained our desires, made the necessary clerical changes and returned to pull the plug. We were all plugged into J-14 by noon.
The lot next to us on J-12 has been and is empty giving us a nice clear view of the busy street Stanley, most everyone travels to the Rec Hall on this street. Mom has an endless curiosity of what's happening in the world this helps to resolve that.
Stefano's Brooklyn Pizza for lunch, Mom suggested. Gave Anita a call and she responded they were ready and would pick us up. Spaghetti was the tables choice and ended with a Nutella fruit desert pizza. Don't order this desert it's embarrassing to eat, sticky, hard to cut crust with a fork, fruit falls off, fingers are a mess and all you want to do when finished is order another one. Delicious ....
Stopped at a couples of stores on the way back and finished the evening at the Laundromat.
January Saturday 27th 2018 - San Benito TX - Fun N Sun RV J-14
Craft sale at the Rec Hall day. This event seems to always draw the folks in, the choo choo train was running all morning bring in whoever from the main parking lot to the center of the Park's Rec Hall. Mom & Anita were out first thing checking things out. About an hour into their visit I received a call that the RV Supply folks had a few tables there, as they usual have. I had purchased a bright LED light that is faltering, so I ran it over and they graciously gave me a new model that eliminates the blinking problem .
This even brought a new problem to my attention. Since Mom called me to let me know what was happening and I didn't answer the phone, but did check for voice mail. Well guess what? My newer flip phone doesn't appear to have voice mail on it hence a quick trip over to AT&T store. As the service person was checking and installing voice mail the manage came over to check how things were going. we talked while service girl finished up and said all's well. I left returned to the Park and sat down to see how it works and all I can figure out is that it my shows I received a couple messages but my only apparent options are to 'return a call' or 'delete the message'. I cannot find a 'play back' command. Monday back to AT&T.
Nothing exciting about dinning out today we all opted for a quick fast food meal, can you believe. Back a the ranch I jumped on the computer for a while and after a time found the message "Battery low plug in power." I looked an found the charger light was on and it was plugged in. Groan.. Wiggling the cord where it had frayed a year ago and required continuous masking had finally broke. Serious problem DEAD Computer. We still have time for the twenty minute drive to Best Buy. As we started we stopped at Wal Mart first (five minute drive). They have two, one universal 45 watt for $25 and another 90 watt for $50. I said to myself I'm only charging a battery 45 watts should handle it for me, so cheaper I went. It appears to be working fine. The laptop it self is rated at 60 watts, I'll just try to be sure to have full battery when starting off.
To top things off, another cloudy sprinkle filled day where we had to run the AC because we had to close-up the unit while we out and Bindi needs comfort, it was well over 74° outdoors.
January Sunday 28th 2018 - San Benito TX - Fun N Sun RV J-14
Called J&A for lunch, we drove down the block to Sabor De Mi Tierra the nearest Mexican restaurant to us. It's always been good eating and today it was as well.
Sunday's ice cream social followed by entertainment. The Rec Hall was packed full this evening, I'm guessing close to 500. Our national chain 'Encore' hosts a month long challenge where all of the Park's activities participants (the best in each category) contest each of the other Encore parks in the area, I think there are eight nearby Encore Parks participating. Here is a shot of some of those from Fun N Sun (pic). Some of the various games include: Horseshoes, Bean Bag Toss, Bocce Ball, Pickleball, Table Tennis, Shuffleboard, Darts, Euchre, Bridge, Cribbage, Pinochle, Texas Hold Em, there may be more.
Entertainment this night was Tavie Spivey, Singer & Entertainer, She is good and a lot of fun with a whole lot of audience participation. Her theme is a tribute to the 50's & 60's and of course that fits right in with all the old folks here. Travie was able to get a few of the gals up to do the hula hoop while she sang 'Let's Twist Again'. I'll see if I can get a video up. (vid)
I've taken a few shots of her on stage (pic)
January Monday 29th 2018 - San Benito TX - Fun N Sun RV J-14
Quiet day today, nothing but a Bindi walk before lunch. My favorite eatery this day

Khan's Grill a Mongolian Barbecue Restaurant, We were welcomed as we walked in by a very helpful young lady who explained, "Pickup one large green bowl and fill it with any of these items and in the small red bowl place your meats and or fish and we'll give you a number." Filling the green dish first with one of three or four pastas then any or a lot of the veggies that followed. Next the red bowl with pork, beef, and a little chicken. I was assigned number 9. Next one of the six men behind the counter standing next to the large round flat iron surface took my bowls dumped then onto the hot grill and asked what oil, shrugged my shoulders and he poured some oil on the grill stirred and mixed and asked what flavor I again shrugged he grabbed a couple of bottles and squeezed more into the mix along with some powders and grains mixed and stirred then some spice, "hot, medium, or mild?" Medium I answered another squirt from a red bottle stirred and mixed and flipped while I watched it all cook for a short time. Scooped on to a dished which he handed me and sent me on my way. A young girl picked me up and said follow me, we walked to a table, Mom followed, we joined John & Anita to enjoy a stirred fried meal. Food was good but with all of the stuff the chef put on my plate I suspect that everyone's dish tasted the same??
On our way home John talked about a table-tennis table had been damaged, which upset John because there was no reason for the damage. We picked up some tools from his place and went to the hall and started repairs. We took a few hours to removed the damage bent table supports, straighten them out drilled some holes so as not to use the same holes where screws had been pulled from, replaced some damaged pop-rivets and reinstalled the now straighten supports, put all the parts back together and I think the table is ready for use.
That's the day!
January Tuesday 30th 2018 - San Benito TX - Fun N Sun RV J-14
Now see if I got this, Super Blue Moon, Eclipse, Red Moon. I guess I'll sleep through it and just wait for all the pictures to show up on line, what d'ya think?
Dancing at Lake Wood this morning. Big day for me, here's a picture off me walking back from the stage with a fist full of $$$, winner of the 50/50 drawing, a whopping 16 Georges (pic). Dancing seems to be topping out at five or six squares here at the lower end of the Rio Grand Valley. I know that there are more dancers up the valley I wonder how many squares they average.
Group of seven couples, after the dance, headed up to La Feria to Los Leone's Restaurant (pic). Good service and good eating. Nice conversation with a nice group of folks. On the way home I stopped at AT&T again. Voice mail has been all set up but with my brilliant mind I have no idea of how to use it on the modern flip phone. Went through all the menus check all I could but could not find anything on how to connect to Voice Mail. After I sat down with the service person and explain how I know there is VM but can't find how to connect. She paused the explained slowly push #1 and hold down for 2 seconds! Oh...
Now the other day I spent half hour there while they got VM installed and hooked up. Don't you think like my old flip they would have the words Voice Mail on a menu somewhere? Think someone would say something, I guess as long as I know where the AT&T store is I'll be OK.
Nice evening for Bindi walking...
January Wednesday 31st 2018 - San Benito TX - Fun N Sun RV J-14
Mom went over to Genealogy this morning. Had a very good speaker with a very smooth method of recording family history.
My excitement was a long Bindi walk, still can't break 2 miles, not sure if it's her or me... We were close today, maybe tomorrow huh.
Mom had some coupons for Chick-Fil-A, so the four of us headed over for a light lunch. After lunch Bed Bath and Beyond was call the woman for some reason. Then a stop at Sam's Club for exercise and a frozen yogurt and finally the ride home..
This evening some Horticulturist was making a presentation on handling cactus that have been exposed to the excessive cold. She described how to identify how serious the damage is and if the plant is alive or not, mom enjoyed the session.
February 1st Thursday 2018 - San Benito TX - Fun N Sun RV J-14
Doughnut dance this morning with a few squares of a fun group, Always good exercise to start the day. Nice group joined us for lunch at Blanquitas. Bert's son was down for a visit and today was his birthday, Bert invited the group over for cake and ice cream this evening, nice folks.
Beautiful day in the high 80s with loads of sun. So nice I downed my swim suit to wash the PT. Ran some errands and just coasted through till evening. Picked up John and Anita and drove to Duane & Bert's place in Harlingen. I had more cake and ice cream then was good for me. During the evening some of the group has mentioned how good the steak dinner at Chapita's was and only $10, the more we talked the better it sounded and most decided to have Saturday's dinner at Chapita's. 6: p.m. We agreed to meet there. We wished Jim a happy birthday he was 69 this day and we got on our way, home by by 9: p.m., this was a good day..
February 2nd Friday 2018 - San Benito TX - Fun N Sun RV J-14
John plays table tennis every morning for a couple hours as his warm up for the day, consequently he's become the best table tennis player in the park. This morning we got a devastating call from Anita explaining she was on her was to the hospital following the ambulance with John in it. John with one of his monstrous returns leaped to the side, caught his foot on a defect in the floor, was thrown to the floor with a painful hip injury. John is in a lot of pain, doctors reported a fracture in the hip requiring a pin repair. Surgery at 10:00 a.m. tomorrow morning.
We drove over to the hospital and could not see their car so Mom called Anita. Anita said that they appear to have everything isolated, no one can come where she is at. We assume due to the flu a lot of precaution are being taken.
That was pretty much our day, a couple of Bindi walks, few phone calls, and loafed the day a way.
February 3rd Saturday 2018 - San Benito TX - Fun N Sun RV J-14
Nice looking day, Mom suggested Don-Wes Flea Market. I need a couple light weight sweatshirts and we know there's a large selection there. We drove the local streets avoiding the freeway just for a relaxing ride. We got there before noon and they had a decent crowd, wasn't crazy though. Walked all the paths at slow pace just for exercise, as we passed a food stand someone suggested a funnel-cake. So powder-sugar all over it was, it took the hunger edge off for sure.
We've been coming to Don Wes for years now and I think it's time for a change. There are a number of larger flea markets in the area, which we've done on occasion, we'll have to give one a try again. We had a light lunch, I think it was ice cream, because we are planning on big Steak tonight. Back home to lounge till our dinner engagement.
As it's nearing 6: pm. we headed over to Chapita's without John & Anita, one of their favorite places, to meet up with the group that was at Bert and Duane's the other night. We setup tables for the eight of us, Nick & Dee, Bert & Duane, and their son Jim and his wife Sue. Interesting note, Sue has been employed to clear a privet estate, she's been at it for ten years. Selling off the heirlooms, doing a lot of it on E Bay. Sue said the job is finally winding down.
Time to order; Sizzling T Bone Steak cooked with green peppers an onions served in a hot iron skillet along with a dish of salad, rice, and charro beans $9.95. Six of us ordered the T Bone, I was hungry so no pictures, but when it arrived at the table one has to be impressed, it's large, it's sizzling, and looks scrum-shish. The meal was very good and at the price I'm sure it'll be ordered again.
Checked in with Anita who said John's surgery went very well, he's doing fine. The doctor said all went according to plan, no surprises expects a good quick recovery,
February 4th Sunday 2018 - San Benito TX - Fun N Sun RV J-14
Nice sunny morning high is to reach 86° today, Mom suggested a visit to South Padre Island. I loaded some chairs, got my cameras together and we were rolling. Because we'll be going through Rio Honda I suggested to Mom call Anita and check on John, and to see if he would like some apple fritters.
John is doing well, he's taken a few steps this morning, feels good about it, and the fritters would be welcome. So it was.
Decided to take a sidestep to Laguna Atascosa wildlife refuge. Roadway at the park is still not repaired so there is no admission charge till repairs have been made. I just wanted to see how things were moving along there, nothing yet in two years. The main road leading to the real bad road has been repaired so I guess that counts for something.
On the Island we were able to park at the first beach access point. Now that we are here the sun is ducking behind a cloud. No deterrent for us, we walked our stuff to the beach and parked in the sand. Sun is still muted and the on shore breeze is kicking up a bit. Mom's in a wind breaker, I'm toughing it out as I can see two girls in Bikinis. (pic)
After about 45 minutes and a short walk with Bindi I came back and said let's head to the inland side, should be less breezy. We headed over to where this past Friday & Saturday they had their international kite flying exhibition and look what's leftover for today (pic).
Getting towards dusk after chowing down on a Pizza Hut pizza we started our trek towards home. As we drove the almost deserted roadway we spotted a couple on Nagia's in the middle of a field (pic). They stood off about 200 yards, one was following the other towards the woods. I got a couple of shots off (pics).
As dark was setting in I had a chance to talk with John, his sprits were up and he sounded good. He said he felt as good as possible, pain now was mostly only after aggregating the wound. Doctor said all is looking good and if therapy goes well he would think he could be playing table tennis in 8 weeks. The Doctor himself is a player so he knows the game well. He won't know all about the therapy details till everyone talks to each other Monday sometime..
Talked with Glenn this morning, he was telling me of what happened when he went over to brother Craig's to check around property after the recent meteor exploded. The first reports published that parts of it hit near Craig's property. Glenn went on to say that with fresh snow on the ground he could see no one had walked there. He then drove the mile around the block to the dead end street going to the rear of Craig's property. Sheriff's car block the street not allowing anyone in. He continued driving the area and seeing four separate occasions of two middle aged men dressed in Carhartts with reflective striping, one with a laptop another with something else in hand. Each time he came across a pair of guys they each were doing they same thing. One man would place a laptop computer on to a residential mail post then did some things, he then drove off. All the different men he saw appeared in the same type clothing and each pair had a laptop and each stabilized it on a mail box. Glenn said it was obvious that they were dropped off by someone because there was no sign of a commercial utility truck or any other transportation nearby. Sounded to me like some official organization was out looking for meteor rocks.
February 5th Monday 2018 - San Benito TX - Fun N Sun RV J-14
Spent the whole day around the RV. Got a call from friend Bill V who talked on how ill his wife Carrie is and that the doctors said they could do no more for her. Our prayers are with Bill and his wife.
Talked with Uncle Ed this afternoon and he confirmed Glenn's observations. He said the morning radio show discussed the fact that an organization had come in to investigate the meteor event.. He also said it was in the newspaper and on TV.
That was all the news of the day....
February 6th Tuesday 2018 - San Benito TX - Fun N Sun RV J-14
Dance day at Lakewood RV. We had six squares and a good time. We skipped lunch to have salad at home. I think this sparse consumption of ice cream and a rare doughnut intake seam to be accumulating under my belt. I'm watching closely I am!
Went over to the Park Office this afternoon and extended another month. We are thinking come March we'll just start a slow ride towards home, we have a month to figure it out. Arizona sounds real good but with mom's various appointments prior to her knee change, we don't want to have to rush. Also with the stock-market shaking things up we may have sell all our toys. hmmm, We'll just move slowly and enjoy each day...
Watching the most spectacular thing I've ever seen this afternoon, I was totally over whelmed by the launch of Space X's Falcon Heavy and then watching the almost empty fuel tanks fall back to earth under such control that they were stirred back to the launch pad and then land vertically on the exact spot they wanted them to.
WOW! Watch the video it's amazing: Falcon Heavy
February 7th Wednesday 2018 - San Benito TX - Fun N Sun RV J-14
Went over to Genealogy with Mom this morning, we took our bikes. We started the day with a warm 72° and half way through the meeting I stepped outside to rain and 50° weather. The rain was just starting so I biked home, picked up a jacket for Mom, took the car over and I took her bike back home.
Went to lunch at Luby's with Anita this afternoon. John started his intense week of Physical Therapy. Everything is going well and he should be back on the tables in 8 weeks.
Sky's stayed cloudy all day then heavy rain this evening. I understand that rain will be heavy snow by the time it hits Michigan. hmmm
February 8th Thursday 2018 - San Benito TX - Fun N Sun RV J-14
Still cloudy and cool this morning, mid 60s. We had four squares dancing, with the Encore Games in play this month there were a number of dancers that weren't dancing this day. Nick introduced progressive squares this morning which stirs up the squares by having dancers advance to another square as they dance, brought on some laughs and fun. Eight of us got together at Blanquita's for lunch, good food, good service. Nick & Dee, Dwaine & Bert, Chuck & Sandra and us.
Anita stopped by and updated us on John, all is going well and they both are very happy with the service and treatment from those at the hospital.
February 9th Friday 2018 - San Benito TX - Fun N Sun RV J-14
Little warmer today but still overcast, real strange this extended weather pattern. Tomorrow they say weather in the 80s. All we did today is dine out. We went over to Las Vegas for lunch, good food is evident by the always full house. Went over at 2 p.m. and took the last seats.
That's the day. Tonight is the Olympics opening, that's ice cream in front of the TV. Anita called, John's doing well and looks like he'll be home Tuesday a day earlier. Good for John, I'm sure he's ready to be done.
February 10th Saturday 2018 - San Benito TX - Fun N Sun RV J-14
Warm this morning, and full sun and 80° by noon. In store for a great day. Listen to WJR this morning and it said cold & lots of snow, everyone should pack-up and come to Texas is what I say.
Mom went out on her bike at 8: a.m. this morning because it is yard sale day. We had light sprinkles for the first 1/2 hour but Mom kept peddling. We now have another birdhouse!
We sat outside absorbing some vitamin D and talking with our neighbors when Anita pulled up. She said she was on break from sitting John and was ready for some lunch. John is still on the plus side of getting better, so we went over to What A Burger for a little fast food.
Tonight a tribute to Creedence Clearwater Revival at the dance hall. John & Anita have tickets for tonight's performance and can't make it so guess who has great seats for the show (insert smiley face here). The hall was packed. Not being a Creedence fan I didn't know what to expect, three guitars and a drummer is what they had on stage. Judging from the audience it was a great show, lots of applause and standing ovations. One of the guitarist was a vocalist, I recognized a few songs they did Proud Mary being one of them. Got a few pictures of the group (pics) And one noisy video (vid).... Clearwater's History. Would I go to another performance? They were loud and played fantastic guitars, most song we didn't recognize but we didn't leave, we don't think we have to see them again though. The younger retirees that were there definitely wanted another hour of their music.
February 11th Sunday 2018 - San Benito TX - Fun N Sun RV J-14
Mini day today. Mini meal, mini drive, mini relaxing, and a mni visit with John. Oh yes, and Mini temperature. We started the day in the 70s and by noon we were in the 50s, go figure!
February 12th Monday 2018 - San Benito TX - Fun N Sun RV J-14
Still overcast but a tad warmer. Made arrangements and got together with Ron and Bev from our Jayco Group. They spend their winters at Kenwood RV in La Feria, a neighboring community. At their place we gabbed for sometime getting caught up on the news then we went on to have an early dinner at Russo's Italian Restaurant, a new restaurant that opened early this year. Food was very good but I have an issue with the new staff. From the menu I ordered Spaghetti, seen that meatballs were $3 more. When the waiter came to take the order I asked for Spaghetti, he said it comes with Meatballs or Sausage, at the table we were engaged with conversation, so to myself I'm thinking "Oh it comes meat but you have to pay for extra meat," So I answered meatballs. The order came with two meatballs now I'm thinking the waiter should have said 'For an extra charge you can have ....,' I'll check when the bill comes but I think I'll have to pay for the meat. The bill came while we were talking, so in the car I see I had paid $3 extra for meatballs! I'll called them tomorrow I'm a little ticked.
Stopped by Anita's on the way home and helped her get a few things ready for John's ride home tomorrow. The rest of the evening was with Bindi.
February 13th Tuesday 2018 - San Benito TX - Fun N Sun RV J-14
Overcast! Dancing this morning 5 squares, dancing was good, doughnuts were good and the afterwards lunch at Vermillion (Harlingen) was good. Nick & Dee and, a new to us couple, Steven and Aly joined us. Only down down side the service was lousy, the worst we've ever experienced in the Valley. What made this OK was the good conversation. Steve and his wife are full time RVers. They belong to a RV worker Group Organization that keeps them updated on who wants work-campers and lists all the areas available to work etc. It was interesting to learn of their experiences. Also another thing that made me feel better was the cute little server said "I never served before I'm a bartender, because we are short staffed I have to serve and the only two other servers aren't any better then me." She was so sincerer in her explanation I had to give her some sympathy.
Made a call to Anita who said we just got home. So John is home now with a heavy rehab schedule in front of him. I guess we'll have to give him some room to let him readjust...
Afterwards, Mom went and did some Grocery shopping, then the laundry while Bindi and I did some hoofing. Like the whole day is gone?
February 14th Wednesday 2018 - San Benito TX - Fun N Sun RV J-14
Feb-6-2018 2 a.m. Glenn called regarding my call to his phone?? I explained I've been asleep for the last three hours and my phone is setting here on the table. You just called me but when I got to the phone you were gone so I thought I better call back, emergency?
This morning 2 a.m. I'm awaken by Mom's phone ringing, I then hear "Call from Bob's cell." I climb out of the sack and check both phones and sure enough my cell phone called Mom's phone. Spooky huh? Bindi was still sleeping...
Sunshine and 74° today, everyone is happy again. Genealogy presented Dr. Elizabeth Miller on Forensics. A Forensics Medical Pathologist for Cameron County Texas she spent an hour and a half explaining the procedures and how her determinations are determined. It was very interesting but there was almost no Genealogy information here.
After the meeting we stopped over to see how John was doing and found him setting on the couch with his computer going. He's looking good and I'm sure he'll be up and about in no time.
With the sun shinning so bright Mom suggested a ride to pickup some shrimp to eat down here. I understand Dear sure let's hit the road. (I just seem to know that the SAS store is on the path of the shrimp shop). We bought 1½ lb. of shrimp and on our way home we stopped to picked up a pair of shoes for Mom and I did the same, hmmm.
On the road back to the park we picked up the news of the terrible shooting in southern Florida school, just changes ones whole attitude in a hurry.
February 15th Thursday 2018 - San Benito TX - Fun N Sun RV J-14
Still sun and warm. Only three squares dancing this morning. We still had fun especially with the a couple of new dancers which always makes things a little more interesting. Afterwards we lunched at Blanquita's Mom and I split a small lunch because this evening we are going to a dinner show, thanks to John & Anita.
Mario Rosales at the dance hall. A fun entertainer and with a real easy voice to listen to. After our dinner, where they served 487 folks in 40 minutes, Mario came on stage and sang and sang and sang he did inject a lot of humor so it was a fun time for sure. Some of the humor was a little slow which drew groans from our table. Sharon was spotlighted for the best GROAN.. Yes Mario pointed out the person in front row center stage who had the best groan and asked her for her name. We sat with Sharon and contributed to the moaning as well. His show was set for two hours but lasted two and half hours, also sold out his CDs so I think all enjoyed the performance..
Our first experience with Mario was here at Fun N Sun back in 2012 when he joined his friend, singer
John Sager. We again attended his show in 2016 when I got a shot of Mom with him. (pic). Now here in 2018 we still enjoy his show. We did have a quiet moment during the show when he came to tears speaking of the recent passing of a girlfriend.
One of the Best Entertainers in the Valley!
February 16th Friday 2018 - San Benito TX - Fun N Sun RV J-14
Big day today, Fun N Sun dog show. Bindi has been bathed brushed and brushed, disciplined walks, and a stern talking to from Mom. There must of been forty doge entered today in three different classes, Large, Medium, and small. Fortunately for Bindi her weight put her in the medium class with the fewest contestants. I shot a ton of pictures while all the dogs paraded by and when the judging was done I walked backed to the camper with out waiting for the three judges to compile their data. Don't you know Bindi was awarded first place in her class, and I wasn't there for the presentation. Here's how proud she looked seated next to her neighbor Ginger of the small dog group. (pic) Here are some shots taken during the show (pics). Here is a short video of Bindi (vid)
February 17th Saturday 2018 - San Benito TX - Fun N Sun RV J-14
We jumped into the car around 8 a.m. for a little drive to Port Aransas (A usual stop that we had to bypass this year because of damages from Harvey.) It's a little less than a three hour drive. As we approached town from the south we were exposed to piles of ruble that have yet to be removed from the Island. Our biggest observation was roofs, building after building covered with blue tarps. Some buildings totally gone, other with walls missing, porches gone, just all sorts of damage. The county park, where we have always stayed at, is closed up. The water front park office building, which was newly built a few years ago, suffered damage and repairs have started (pic). The beach seemed to be the same but as we drove to the north end, where the shipping channel is, sand has disappeared for a depth of four to five foot, for an area about as big as two football fields. This is evident by the cement break-wall that the tourist use to set on while watching freighters and fishing. I have some old pictures where you can see cars can drive up to the wall and step-up about 6". Today's photos show the five foot climb to the top. (pic) (pic). We spent about three hours just looking about. See all Pics.
The drive back was uneventful and so was the rest of the day. Beautiful day with temperatures in the mid 80s. At Port Aransas we had heavy fog which seemed funny for midday??
February 18th Sunday 2018 - San Benito TX - Fun N Sun RV J-14
Beautiful day high 86°. Took B for a long walk today in the hot sun, I know she was beat. At about a mile and a ¼ I sat on a bench in the shade and she immediately laid down, that's a rare thing for her.
Mon had to have steak today so off to Chapita's for their T-Bone. I ate Mexican, wasn't in the mood for a big steak. So are bill was only $17 for the two meals. That was our only outing, oh I did have to stop at Home Depot just for a short fix...
Ice cream this evening for only a $1. Afterward entertainment, not knowing what to expect we stayed to enjoy the "Spittin Image." After the introduction we learned they are twin brothers, 69 years old and have been performing since the age of 14. Mostly Ohio and surrounding areas. One interesting thing they shared with us was their mother who will be ninety next month just share with them what happened when they were 17 years of age when the census taker came to their home, Mom said "Come in how can I help? Yes I have the twins Blain & Brian 17, then twin girls Onda & Manda 15, and young twins Kirk & Mirt 12... Wait a minute you mean you have twins every time? Oh no sir, we've done it hundreds of times and never had anything..."
That's how they started, we found then very entertaining and excellent musicians, guitar and mandolin. They paid tribute to Johnny Cash, Elvis, Neil Diamond. They also worked with members of the audience which almost brought the house down. ( Vid ) We have a few shots of the boys (pics). Real fun show...
February 19th Monday 2018 - San Benito TX - Fun N Sun RV J-14
Quiet day We did take in the Hugh Ramsey Nature Park located within Harlingen city, described as 54 acres of woodlands with a walking trail, wildlife viewing, gardens & water features. We've driven by this park numerous times as it's located on the route to the airport. Nothing to exciting on the pathways but we had some good exercise (pics)
Just in case you think I'm the only one who noticed the change in Ritz Crackers: Ritz
( If the Ritz link doesn't work for you - Google: What have they done to Ritz and click on Freda Kay's link)
February 20th Tuesday 2018 - San Benito TX - Fun N Sun RV J-14
Dancing at Lakewood this morning. I think we had six squares and I know we had a fun time of it. Lunch afterwards was at one of my favorite Mexican restaurants, Los Asados. Food was good as expected. There were six of us eating, Nick & Dee and Dwaine & Bert joined us. We gabbed for sometime after we finished eating, one thing kind of took me back some. Nick was in the middle of talking of his past when he asked wife Dee "What years were we in the Dry Cleaning business." My eyes just popped opened, I asked my self what did I just hear? Needless to say we spent some time talking of the past.
February 21st Wednesday 2018 - San Benito TX - Fun N Sun RV J-14
Call from Aunt Barb this morning, they are home from their winter trip south (Florida and Alabama). She felt as though it rained every day they were gone. Now she said it's all rain in Michigan, the lot next door looks like a lake and her main drain line must be plugged up because none of their toilets are flushing. And, she says the plumber can't make it out for a few days. Oh boy! It's been a different winter season appears for most of the country.
Nice couple of warm days here, Mom went to the pool while I took Bindi for a long walk. I stopped to visit John & Anita, Bindi knows their place well. I sent her to their porch and told her to speak. She stands at the door and barks till someone's opens the door for her. She gets a treat form Anita. We talked for a time when Anita said we were going to lunch today, Seems like Mom spoke of this. Went over to Blanquita's for a late lunch and John did well, in an out of the car, restaurant and back home again. It looks like John is progressing nicely.
February 22nd Thursday 2018 - San Benito TX - Fun N Sun RV J-14
Dancing at Fun N Sun this morning with three squares dancing. Nick does a nice job of mixing things up a bit so we all have fun keeping up. Chuck & Sandra jointed the six of us from Tuesday's lunch, today. We went over to Stefanos' where Mom and I had their delicious Brooklyn Pizza. I think we spend a hour or two after lunch just gabbing.
Came home from lunch and hit the couch, as it felt so good I'm thinking 'Oh yes I did have a cocktail with our pizza.'
ZZZZZ just happened!
We learned today that Linda of Myrl & Linda took a serious fall at her camper that split open her head open, sprained her shoulder, and broke her hand. As the doctor worked on her head they found a blocked artery in her neck that stopped blood flow resulting in her passing out. Doctor said she was a walking time bomb. All repairs have been made and she appears on her way to recovery. (pic)
Closed the day with an evening Bindi walk to John & Anita's. Barking at their door we were invited in to play a little Euchre. During the game it became evident John's feeling really good, second hand he went alone for four points, yea.
February 23rd Friday 2018 - San Benito TX - Fun N Sun RV J-14
Caller Joe Saltel joined Nick Hartley at Lakewood RV special square dance night. We had not planned to dance but took John & Anita over to the dance just so friends could see he was still alive and kick'en. I took a few pictures (pics) and a short video to how they enjoy calling together (vid). We only stayed a little less then an hour so we would have time for a little Mc D's ice cream on the way home.
February 24th Saturday 2018 - San Benito TX - Fun N Sun RV J-14
Big wind day, 30 mph most all day long. Mom & Anita went over to the Rec Hall for another craft showing first thing this morning, then upon returning home suggested we take a ride over tot the Island to visit the newly built Turtle Recovery Center. The official opening was a couple of weeks ago.
In back of the somewhat old dilapidated turtle structure they've build a brand new, ten times larger, building housing several large tanks and gift shop. Outside they've built a boardwalk back to the old structure as well as a viewing platform for bird-watching over the back bay. (vid)
On the way off the Island we bypass the visitor center where they are in the process of building new Sand Castles. We stopped for a few moments to watch the work. A lot of effort goes into these structure for sure. took a few pictures (pics).
This evening Mom & Anita took in the Eagles music show, while I spent the evening with John. They enjoyed the show, said the music was great and they played to a full house again.
February 25th Sunday 2018 - San Benito TX - Fun N Sun RV J-14
Sunday day of rest! Little walk, little bike, little talk, a little lunch (Blue Marlin w/J&A) and of course a little DQ. It was such an easy day that I even skipped the ice cream social & entertainment. Later heard we didn't miss much. Did wash the car this evening so we could have some rain.
February 26th Monday 2018 - San Benito TX - Fun N Sun RV J-14
Rained last night and continued on and off for half the day. Found we had a slow leak in a rear tire on the PT so I took it over to Discount Tire for a free repair and ended up a new tire not free. (old and casing separation).
Mom been doing the pool everyday and yesterday heard at the pool of a good Wing restaurant that had a special desert, it's located in San Benito on the main street. We drove the length of main street and found The Wing Shack, must be the place. Mom said that does not seem to be the, forgotten, name? We both ordered some wings and they were very good, then asked about this special desert. "Oh we don't have any desert." So back at the pool Mom learns that it's located on the "The other main street, Bus 77," the hwy around the city. Another day we'll check.
We stopped at a nearby medical supply house, Mom wanted another pair of support stockings. Talking with the sales man at the counter, asked about mail order. He said he'll need some info and left for the back room. Mom then pickup the conversation with the lady, asking about how long this brand last and several other questions about quality. The knowledge lady pleasantly responded to when the man returned with a form Mom to filled out. The salesman turned to the lady and said "You're next." Mom said her jaw dropped, then said "I thought you worked here?" The lady said no I'm a customer too. She was so nice they talked for a while longer...
Pan O' Steel, steel drum band from a local school played at the dance hall this evening. We enjoyed them last year they were very good but I took a pass. Mom went over and reported that they were even better then last year.
Oh Boy...
February 27th Tuesday 2018 - San Benito TX - Fun N Sun RV J-14
Dance day at Lakewood, only four squares dancing. Lunch was a the Harlingen location of Blanquita's the sister restaurant of the same name we go to after Thursday's dance in San Benito. We called John who had just finished therapy so he and Anita joined us at the restaurant, in all there were ten of us eating. Service was dead slow this day but the food was very good.
Mom was in the pool this afternoon doing research when Bindi and I did our walk by. We had a nice warm day with a heavy breeze to keep one cool while walking. Relaxed around our place the rest of the day..
February 28th Wednesday 2018 - San Benito TX - Fun N Sun RV J-14
We extend our payers to our life long friend Bill whose wife Carrie passed away this morning after years of suffering.
Genealogy this morning, and then lunch with John & Anita at Whataburger. Afterwards we tried to do bike ride in the Park but after a few streets the constant 40 mph winds kind of took the fun out of it. When Mom got back from the pool she said let's do the Train.
Every Wednesday the Park train shuttle gives a free ride around the park, close to an hour ride (pic). Quarter to Six we joined a few other waiting for the engineer. In a few moments there we enough people to fill the two cars the engine pulls. I don't know all the details but the train and cars came from California's Disney Land park a number of years ago. They drove the train up and down numerous streets in the park. They've been doing this for years and it's fun to see how all the folks react to the passing train. I hope to a the video of the ride up soon. (pics)
Over to John & Anita's this evening to finish the day with a few games of euchre. After finishing the bowls of nuts, a couple of cocktails and finding everything very very funny we found it was time to hit the road.
March 1st Thursday 2018 - San Benito TX - Fun N Sun RV J-14
Danced with only two squares this morning, I guess the northern Texans are heading home. Looks like we'll be staying a little longer here due to scheduling confusion, we'll head home sometime near the end of March.
Called John who was finishing up at therapy, he would meet us for lunch at El Sabor DeMi Tierra. (Taste of My Land). Same eight of us again. This is a nearby restaurant that is always crowded, with good food & service, and a bill for two of $16 including drinks.
Mom went over and did laundry then hit the pool while I took a little longer bike ride out of the park checking out some of the nearby homes priced in the $300/$400k range. (pic) That's the day!
March 2nd Friday 2018 - San Benito TX - Fun N Sun RV J-14
Down here near the Mexican border, one of the regional highlights is Grupo Folkloric & Mariachi activities. This Sunday groups will be performing at the performing arts center in in La Joya, a small town at the extreme upper end of the Rio Grand Valley. Tickets have to be purchased beforehand and only at the door. So guess what our activity is today, yep a 55 mile drive to buy a couple of tickets.
After the hour drive to La Joya, we stopped for instructions from security guard and before I could say anything he asks "Tickets for the show, park anywhere you can, and in the red building you'll see signs". My reply "muchas gracias", got a smile as we drove on. For the drive back we opt for the business route instead of the interstate. We decided to stop in the town of Donna for lunch. Some years ago we visited a building with no name on it that everyone was talking about. For cash only the owner opens for lunch with 300 lbs. of fresh ground beef and when the hamburgers are gone they close the doors and go home. As we remember the burgers were big and the only other cooked things available were fries and onion rings. Location is: Gonzalez Berta's Burgers, 1309 Silver avenue, Donna, TX.
Today as we drove up it appears nothing has changed on the outside. Inside the counter grill area is the same, they replaced the few old wooden picnic tables with new plastic folding tables, so it looks cleaner and neater. As we placed our order I gazed at the grill and did not remember how big the burgers were, they are full dinner plate size on the grill. As burgers cook down the grill master kind of pushes the edges towards the center making the edges a good inch to inch and half thick. This is one big burger! (pic). $5.95. We should have ordered one and split it, but we each ordered one and we each took a half home. (pics).
This evening was beautiful for walking so we did. A real nice day....
March 3rd Saturday 2018 - San Benito TX - Fun N Sun RV J-14
Hot day today. Mom did our grocery shopping, Bindi and walked, washed the car, and that was the activities for the day. We met up Nick & Dee ,Gene & Sharon, and John & Anita at Chapita's for dinner this and that was our day.
March 4th Sunday 2018 - San Benito TX - Fun N Sun RV J-14
Beautiful day. We left early for our trip to La Joya to insure good seating at the Art Center. We got there by 12:15 p.m. for the 1:00 p.m. door opening. Well waiting, they had a band playing and girls dancing outside for the waiting crowd. (pic). The doors opened on time and as we were filing in another door opened and they announced anyone for balcony seating through this door, we happened to be the first to enter. Through this door then that door then up the stairs. Stairs, up three floors, groan. Third row from the rail center seating, wow. As the auditorium filled the row in front of us remained empty because of the rail blocking some view. Also the rail isle had two seats directly center empty. Then at the last minute a show person sets-up a video pad directly in front of my view. I asked him to lower it which he did some, but in my videos you can see his pad at the bottom of my shots, Oh Boy! (Vid)
The show started on time and all we can say is WOW. It is totally impressive to watch the singing, dancing an choreography while we kept saying to ourselves, they are only high school kids. We certainly enjoyed the performance. This annual event has been going on for thirty-six years, they performed for several presidents. I took a number of pictures to help remember the show (pics).
March 5th Monday 2018 - San Benito TX - Fun N Sun RV J-14
Off to a nice slow start this day, Mom thought it would be nice to visit the Harlingen Heritage City Museum. We drove over towards the city airport where the Museum is located, park and walked to the entrance only to find both doors locked. Sign reads 'Closed on Monday." So ends our activity of the day. We got together with John & Anita for lunched at Las Vegas, always good food reasonably priced.
Anita invited us over for cards this evening which didn't start off too well. First game women 8 men 0, things not going well. Final score 10 - 2 girls won! Any case things improve as the evening went on so we had a happy ending.
March 6th Tuesday 2018 - San Benito TX - Fun N Sun RV J-14
Crazy weather, weathermen reported not having a winter season like this in over twenty years. Yesterday 87° this this day 67°, cloudy all day.
Did get over to Lakewood for the morning dance with four squares, can see that it is March and folks are leaving for home. Gave John & Anita a call told them we were going to El Sombrero's on Jackson street for lunch, ended up with ten of us.
Nice evening for Bindi walk with no blinding sun in the west and long sleeves for comfort.. hmmm.
March 7th Wednesday 2018 - San Benito TX - Fun N Sun RV J-14
Beautiful and sunny day with temps back in the mid 80s. Spent the part of the the day checking the PT's tires. They are all dated 2011 and appear well worn. Went back over to Discount Tire to check tire price and asked about the one they had just bought, They gave me full refund with the purchase on four new ones. Brought the PT back in the afternoon and had all four replaced.
Finally decided to attempt repairs to my camera. I got both cameras totally disassembled and ready to swap out the motorized lens assembly (pic). Well after swapping lens and putting everything back together, I put the power to the camera and found it works just fine. Happy man.
We stayed home for a shrimp fest early dinner. Got our walk in with the pooch and just laid back some till we got a call "Cards tonight?" Played cards to close out the evening.
March 8th Thursday 2018 - San Benito TX - Fun N Sun RV J-14
Small dance this morning then ten of us went to Los Nortenos for their turkey lunch. Later in the afternoon Anita came by in need of a hand to empty their idle camper, it's been setting unused for a number of years and they decided it's time to go.
One of the best things about being here in during the winter months is being able to leave the camper after dark with sweatshirt and dog for a warm evening walk
March 9th Friday 2018 - San Benito TX - Fun N Sun RV J-14
Light cloud cover with 105% humidity, I say that because when out you can feel the moisture hitting you but as you look around no one is carrying an umbrella or doing anything to let you know it's raining ??
Mom wants to head over to Progresso Mexico this morning. Dog is walked, air is turned on, and we're off for our half hour drive. We are at one of the two large $2 a day parking lots located each side of the road. Walked across the bridge right unto the main roadway that's packed. It looks like everyone over 50 is in Progresso today. This two lane road with parking on each side is filled with sidewalk vendors' booths, that touch each other, on the sidewalks walking is single file in each direction, pushing, shoving, bumping, is part of the the event.
We've been told there is a bakery on a side-street that makes delicious Tres Leches (Favored Mexican desert). We asked a couple vendors the location and were pointed the way. On our way up the street we thought we would get a coffee at one of our usual stops, but once we were able to get in the door every table was full with a number of folks still waiting, so back on the street. We got up to the tall building where we were to turn the corner, (keep in mind there is no street, curb, sidewalk maintenance here.) We stood at the corner attempting to cross but could hardly step off the curb. at the other side, with Mom in front of me, Mom attempts to lift her foot onto the 18" curb, which is not smooth cement but a mixture of wet cobble stone and pieces of broken concrete. As Mom gazes to find a hole in the crowd her foot slips on the terrain and her body slowly meets the cobble stones. Two fellows and a couple of young kids quickly help her up all saying are you OK, are you OK. Mom attempting to brush herself off saying I'm OK while the young boys jump in and help her brush off her slacks.
We proceed up the narrow walkway leaving the crowd on Main Street. On the next block there a few locals walking, traffic is nil. Here on our side of the street the curb is over two foot high, but at the corner are three steps down to cross. There are only four store fronts on this side and one is signed Bakery. Inside it's very hot, my glasses steamed-up, I can see baked goods displayer. I asked for Tres Leches, she pointed and said next door. Next door looked to be a small drug store. Inside one more door over, was a grocery store with a back area I did not go into. I told Mom even if they have Tres Leches I don't think I would buy it here judging from the dark interior and unkempt appearance.
Back to the main street and heading towards the border. Here's another unique experience we encountered. As we are going through customs, Mon gets the go-ahead, I'm up next, hand my passport to the official. He runs it through twice, looks at me, runs it though again then grabs a orange card and hands it to me saying your selected for a random check go back through those double doors, as he points. I look back to Mom and wave good bye, I know she has a car key.
I walk through the double doors and see a bank type counter with protective glass wall. To my left I see what appears to be a family of Texas tourist, and no one behind the counter. I asked is there anyone here? They look bewildered and one said someone is there. Up to the counter, no one in sight, I wrap the glass wall and a head appears from behind a cubicula wall. A customs agent walks up and asked can I help you? I hand him the orange card and passport, he looks at it and appears confused. I said it a random check. He steps to the side and asked what's in the package? Two liters of booze. He stamps the orange card and hands me the card and passport and walks away. I head back out through the for lines of the waiting returning tourist. Back at the same Customs Agents and step in front of the man nearing the counter when a standing-by-agent sees me moving through and heads towards me. I hand him my card and passport, he takes the card from me and said OK go ahead. I went and met back up with Mom.
After all this excitement we need lunch. Wendy's has been advertising Dave's Double for a Buck! So we headed to Wendy's. Being the big shooter I asked for two Doubles, two coffees, and one order of fries. The bill was under five dollars. (Coffees are free for seniors). We enjoyed our treat.
This evening is a night of cards at John & Anita's. I don't know how much card playing gets done all we seem to do is Laugh. After all the shuffling and laughing time was running out, McDonald's closes at ten thirty. We did make it over for a good night ice cream cone.
March 10th Saturday 2018 - San Benito TX - Fun N Sun RV J-14
Sunshine and 94° today. Saturday Yard sale in the park today. Mom had her list of the sites participating so when Anita came in the golf cart they were gone. Didn't seem to be gone that long but it was nearing lunch when Mom got back. The four us decided to go over to Mr. Gatti's for the first time this year. For $4.95 for seniors all you can eat, they have great pizza buffet, large salad bar and pasta bar. Of course I ate more then I should have. Deserts were Cinnamon covered apple pie Pizza, and fresh hot out of the oven, cinnamon buns. It'll get you every time!
This evening Anita gave us Sharon & Jim's tickets for the Beach Boys Tribute show, they are having some health issues. Thank you Sharon.
At the show this evening they sold over 700 tickets, what a crowd! The performance started off with a bang and keep it up for two hours. There were three guitars, drummer, and MC/keyboard. They played great music but I was a little disappointed in the voice. It sounded to me that the music level was to loud for the singing to be appreciated. They played a lot of the Beach Boys' upbeat music so they got a lot of audience participation. Standing ovations brought on extra music at the end of the show.
On stage there were no signs of the name of the group playing, at the back door when we left I asked one of the stage folks the name of the group, he replied "Surfin", I wasn't sure what he said but found them at SurfinUSA. I found the folks on stage may have aged a little???
We walked a few yards from the back door to John & Anita's to talk about the show and end up playing a few games of cards. Still did a lot of laughing in place of good playing but fun was had.
We walked the couple blocks home, it was a warm night.
March 11th Sunday 2018 - San Benito TX - Fun N Sun RV J-14
Happy Birthday Brenda..
Another nice day high of 97°, Mom went over to do laundry today and when she returned she had talked with Anita and made late lunch arrangements. We went over to Chapita's enjoyed one of their specials, good eats.
On the way home we stopped by John's to look at his computer. Appears his wireless printer is not talking to their laptops. Looks like driver issue as the printer and computer all work, but not together. Checked printer's web page, it said install CD to reload (no CD) and we could not upload drivers?? went home exhausted..
Ice cream social tonight and that's the day. Windy this night.
March 12th Monday 2018 - San Benito TX - Fun N Sun RV J-14 temperature high 70°
Time change this morning, all confused now. Listening to WJR this morning, I'm happy to learn there is a bill in Michigan legislation to maintain daylight saving time year around, no time changing. Makes sense to me. Enjoyed the discussion as to why the changing of time ever started in the first place, always been my question as well..
Called up John & Anita for lunch at Don Kuco's this afternoon. That was our activity of the day, seems like we are kind of stuck in some sort of routine, have to figure something out.
March 13th Tuesday 2018 - San Benito TX - Fun N Sun RV J-14 Overcast high 72°
Decided to change our day today, left early for a drive along the Arroya Colorado. This is a river that flows from San Benito to the Gulf of Mexico. We took some back roads north out of Rio Honda staying as close to the river as possible. It's very remote but every once in a while we would see a RV Park. The road curves east to the gulf and a few miles before the road's end we found Arroya City. There is one large RV park Hummingbird Cove RV, looks to be a nice park on the river. Our wild life adventure and satellite view of the area (pics)
Drove the county roads to San Benito to have a late lunch at SB Wings, Mom heard they have a desert to die for. We split a large order of boneless wings and were too full for desert. Mom order a Lemon Love to go. Shortly after we were home lemon Love was on the table. I had a bite ant it is out of the world delicious.
This evening walked Bindi, and did some bike miles in the park. Tonight NCIS.
March 14th Wednesday 2018 - San Benito TX - Fun N Sun RV J-14 Overcast high 74°
Slow day today, by the time we checked in with J&A we were closing in on 2 p.m. Decided to try a new restaurant called The Burger Barn. Typical of newer restaurants the service was a little slow, but the hamburger was very good. All the cooks here have graduated from local culinary school, I assume that's what was reflected in the taste of the Burger.
Finished the evening with cards.
March 15th Thursday 2018 - San Benito TX - Fun N Sun RV J-14 Clouds & sun high 76°
Square dance with two squares this morning, afterwards ten of us for lunch at Blanquita's. John & Anita didn't make lunch as this was his last morning of rehab, Doc said you're well enough to exercise on your own!
Nice day to do nothing, as we did. A little Bindi walking, a little biking and a lot of loafing. Oh yes, did wash the car.
March 16th Friday 2018 - San Benito TX - Fun N Sun RV J-14 Clouds & sun high 89°
Sunny and Warm. Found a slight shimmy in the PT at 65 mph. Made an appointment at Discount Tire for 11:30 this morning to see what might be the problem. Walked in at 20 after and found a line almost out the door. I waiter tile 28 minutes after then just walked to the counter with key in hand and told the salesman I had an appointment and handed him the key. He asked my name, checked his screen, and said OK. 11:40 jacks were under the car.
While I was standing in line a tap on my shoulder found John & Anita had come because of a large piece of steel stuck in one of their tires. I sat outside while they worked there way to the counter. When they came out they explained they needed a ride home because it'll be a couple of hours to have their new set of tires but on.
My results were one tire needed re-balancing, also the rim was slightly bent from a pot hole. They put it on the driver's side rear and then my test drive found a very smooth ride.
We called Mom to see if she was ready for lunch as it was pushing 1 p.m. We headed over to nearby Longhorn Cattle Co. for their always tasty menu. All entries are served with a small cup of bean soup, today it was extra good, so when they came around with seconds, "yes please." My choice today was brisket sandwich $6.95, very good!
We wrapped up the evening with the women beating us two out of three in cards. Sad wrap..
This years weather at a glance: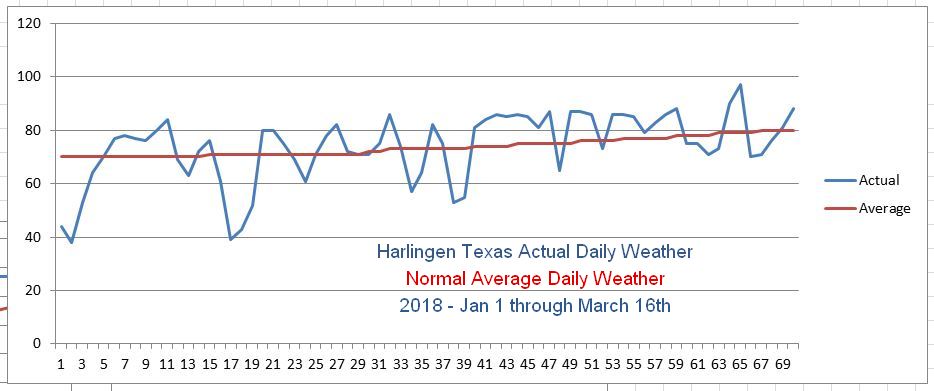 March 17th Saturday 2018 - San Benito TX - Fun N Sun RV J-14 Clouds & sun high 90°
HAPPY ST. PATRICK'S DAY !
Clouds soon turned to sun then hot sun, thankful for the slight breeze. Just a nice day to be on vacation, little walk, little talk, little biking. Nick invited a few of us to meet him for dinner at Chapita's. (Nick & Dee, Dwayne & Bert, and John & Anita). Main topic was where we were going to meet to eat tomorrow?
Bert invited us all over to their place play some cards after dinner. John felt he could set in one place for a long time as he didn't bring his pillows with him, so we took him home. At his place Anita said come in we want to beat you again. Well the pillows didn't help us out any as the women won again. We were out of there in an hour.
March 18th Sunday 2018 - San Benito TX - Fun N Sun RV J-14 Sunny 91°
Nick & Dee had suggested a going away dinner in Raymondville at Casa Blanca, a restaurant that has had a for sale sign on it every since we've been coming down here, 15 years. Casa Blanca has been doing a Sunday Buffet over over thirty years and still fills the house, cost is $12 a plate. I was able to control myself this day and only had one modest plate of, pork, mashed taters covered in gravy with corn and a small dish of veggies.
Nick & Dee came up on their trike and after dinner were looking to go exploring. I suggested nearby Port Mansfield, where the deer roam the streets. He said he never heard or been there and was anxious to take the tour. We headed home to enjoy the rest of the day.
March 19th Monday 2018 - San Benito TX - Fun N Sun RV J-14 °
Our friend Bindi woke us again last night for an outdoor run, this has been going on and off for a week now. Off to the vets this morning to find our what's up. The doc didn't think it was anything other then a bowel infection. A shot, a weeks worth of pills, and a controlled diet (no treats) for a week, he thinks she'll be OK. We'll keep a close watch.
Mom did laundry today, and said the laundry room must of been 100° or more. We decide to try Wendy's for a quick bite, but went ordering the "Double Stack" for a buck, I was told it's no longer on special $5 please. Groan.
This evening we left Bindi at home while we played cards and finally the men returned to the top, but it was close. I'm sure the men will sleep better tonight.
March 20th Tuesday 2018 - San Benito TX - Fun N Sun RV J-14 °
Happy Birthday Ed and Rob, enjoy your day!