Wednesday December 4th - home gas $1.58 last year $ 3.09
Saint Clair Shores MI.

Waiting tolerantly for the holidays to pass. Let's see, had big family Thanksgiving followed by family and friends over for leftovers, Now we look forward to Family Christmas eve, Family visiting on Christmas day, After Christmas gathering for out-of-town visitors, Square Dance dinner outing, followed by de-decorating and finally "packing." Packing the best event of the year whata ya think.....

December 27th, 2008
Christmas gatherings drawing to a close with tons of family pictures already taken: Christmas Eve and
Day after Christmas. We had a great time hosting these events, I'm beginning to think it's the main reason we come home. Getting a break from Old Man weather today with temps heading up towards the high 50s. Suspect I'll be taking the outdoor lights down, a move closer to our winter departure...

Wk1
Wednesday December 31st, 2008 Home to Visitors Center south in Florence, KY gas $1.69 Overnight free.
296 miles. (map)
We could not decide who was more excited about heading south until we took one look at Bindi. With your mother running back and forth to the camper and me folding up Bindi's sanctuary and taking it from the back room, the poor mutt was all stressed out. She just sat and shook uncontrollably. Emily stopped by to say good bye and tried to comfort her to no avail (pic). Mom took her to the motorhome, which she usually jumps right in behind her, but not his morning. Finally after packing we carried her to the coach and tucked her in under her blanket. She refused treats and shook on and off all the way across Ohio. The day was otherwise beautiful, bright and sunny. We left the Shores a little too early, 11 am. Fortunately traffic was light through Cincinnati and we arrived South Covington KY about 6:00 pm. Way to early. It was dark cold and way too early for bed, I thought. Your mother went to bed at eight o'clock. I forced myself to stay awake till after nine. Needless to say I was up at 4 a.m. made coffee and we were on the road by 5 a.m.
One other thing. We've been stopping at the Flying J gas station each year because they promote cheap gas prices and cater to truckers and somewhat campers as well. I like cheap gas and we have the advantage to fill our fresh water tank while I'm pumping gas. As we were approaching Flying J we passed several stations with gas signs priced at $1.58. I said cool Flying J will be less, groan.. Flying J $1.69 a gallon. I couldn't believe I stood there and pumped at that price. Pay attention Mike, stop at exit 178 for the cheaper gas.

Happy New Year! Thursday January 1st, 2009 Covington KY to Burchfield SP, Tuscaloosa AL (Kentucky gas $1.47) COE $9 513miles (map)
Bindi seamed a little better, she is up and around but still not eating and still shaking a little but not as often. We're thinking she must of eaten something because no one could be that upset about leaving for warmer weather. We're concerned but think she is a little better. Last night it was 17° outside so this morning, with an early start, I want to be south by the end of the day.
Nice bright sunny day, no traffic and a pleasant drive, but a long long drive. We made the COE (Army Corps of Engineers) park out side of Tuscaloosa just before dark. The hard part, we drove the last fifty miles with the vent open and setting-up camp was done in a sweatshirt, temperature 60° and we still have a hundred miles further south to go...
Mom took Bindi for a walk while I setup the camper. Bindi seems a lot better. Later in the evening she got off the couch and ate her dog food from her dish, she has only had a few hand-fed treats, so this is good. Later we played around for a while, so I think she'll be OK. No more shaking.

Friday January 2nd, 2009 COE Tuscaloosa AL
Woke to drizzle on the roof. Light showers during the early morning and cloudy all day. Took some pictures of our campsite (pic). Corp of Engineer parks are sure great. Here you can see the cement pads, patio and path to the river fire pit and barbecue (pic). Decided to rest up here one more night. Should hit the coast tomorrow.
Washed the camper and car today, took a couple mile walk, and a short drive. As with most COE parks we're located in a forest near a dammed river. Thirty miles from the main road, no cell service and little TV. Spent considerable time talking with Tillman & Barbara Shields, the caretakers, who live in their Bounder and run the campground. I found it kinda of funny that they live only 30 miles from here in Tuscaloosa. Very nice couple who love to talk..
Bindi appears back to normal all day.

Saturday January 3rd, 2009 COE Tuscaloosa, AL to Elberta, AL 281 miles, gas $1.59 (map)
Nice leisurely start today, cloudy mild and good driving. As we approached Mobile we ran through a deluge of rain. Reported rain rate was at 5" an hour. That brought the x-way speed to a dead crawl. After passing through Mobile the rain stopped and skies cleared and it was dry when we arrived at Debby's.
John parked us in a beautiful rental spot then it was back to Deb's for cocktails and a great steak dinner, wow. We talked long enough for some rain to pass through then we WALKED a block to our home in short sleeves no jackets. Just gotta love the south.

Sunday January 4th, 2009 Elberta, AL
Happy Birthday Glenn!
Bright and sunny day. Deb & John came by for breakfast afterwards John took us on a local tour then to the beach (pic)(pic). We had dinner at Lambert's, yep the same, Throwed Rolls (pic). At days end we ended up at Deb's and checked out their great pooch Punka.
Good to hear from Ty today. Everything went well in Houston even though Western lost. They got to see the Space center among other things. Heading back to Western this day.

Monday January 5th, 2009 Elberta, AL
Bright and sunny day. We checked out several RV parks today including the Alabama State Park on the Gulf. The inland parks we checked out were grassy sites and ran $20 to $25 a night. Passport America gave 50% off for three nights. The State Park appeared to be a good deal at $21.75 (senior) a night. (+11% sleep tax). They had cement pads, large sites, full hook-up and almost on the Gulf. Also, a nice bike trail to the shopping, eating area. We opted to stay put for the niceness and convenience. We booked till Friday.

Tuesday January 6th, 2009 Elberta, AL
Started this day with a little overcast that quickly gave way to bright and sunny. Coffee on the patio this morning turned into a drive to Pensacola to view the white sand beaches. Panama City, which is another 40 miles east, as I recall, had claim to the whitest sand beaches in the world. Pensacola Beaches look pretty white too (pic). Here your Mom and Debby are checking it out. In this rare photo you can glimpse the photographer as proof he was there too.
On the way home we grabbed lunch at a small restaurant in Elberta that is only open from 11 to 1:00 (pic). We caught the tail end of the buffet. At home I tried to catch-up on some things around the coach but all my small projects seem to be moving way too slow. This evening Debby prepared for us a shrimp dimmer that was out of this world. She said it's the fresh shrimp but I think it's in the preparation.. In any case I think I consumed a pound myself. Oh my gosh.
A stationary cold from, that's been keeping our weather bright warm and sunny finally moved through last night. We had heavy rains that started around 11 pm. I think the temperature is suppose to drop to the low 60s tomorrow.. Darn :-)

Wk2
Wednesday January 7th, 2009 Elberta, AL
Berrr... Low 60s all day. Quiet day today went and talked to Ms Sun at the AT&T store. Our phone kept shutting off for no apparent reason. After talking with Ms Sun and Nokia they said they would send us a new phone. They reset the phone by removing the battery, importantly while the phone was on. Reason is that's like a hard boot to a computer and resets everything. Well since we've done that the phone has yet to shut off. It had recently been shutting off 3 and 4 times a day.

Thudsday January 8th, 2009 Elberta, AL
Warmth returned, bright and sunny today. We drove the coast this morning to Fort Morgan. Most all the visible homes along the way appeared brand new (vid). I mentioned this to Deb and she said they were new, since the hurricane that cleaned the coast a couple of years ago.
Fort Morgan was built in 1833 and a short time after WWII in 1947 the Fort was shutdown. It was fun romping around the deserted citadel. Walls a mile thick and cavernous corridors. pic. After spending some time at the Fort and museum we stopped on the beach for lunch. Pink Pony Pub is where we ended up, a good burger on the veranda over looking the beach (pic).
In the evening we again had dinner with Debby and John. Lisa and her daughter Brea were there as well. We had another delicious dinner. I think we are abusing our welcome we'll have to leave before being escorted out of town.

Friday January 9th, 2009 Elberta, AL
Happy Birthday Willie!
Phone has been on ever since, so it looks like all it needed was to be reset.
Boy this week flew by in a hurry. Another perfect weather day. I attempted to install the freshwater filter under the sink, that was a comedy of errors. First off the other day I knew I needed a close nipple, so at Lowe's I shopped and picked up a 3/4" close nipple. Walking to the register I looked at the nipple a said "boy that looks big." So I went to the filter isle and saw they all required 1/2 fittings. I exchanged the 3/4 for the 1/2 inch. At home this morning I took out the drawers and empty everything from under the kitchen sink, got my tools and parts out to find I do need a 3/4" close nipple. Back up to Lowe's to buy the 3/4" fittings. Back home ready to dive in I attempt to thread the 3/4" nipple to the filter, can't get it started. Frustration is raising. Mom says "You know Debby is taking us to lunch in 40 minutes. Groan #*@$#. Everything is put on hold, I freshen up and off we go. This is excellent, we go to "Papa Rocco's," a sports bar restaurant. The meal was delicious! We all had the $5.95 special blah blah Grouper, and we all though it was an excellent meal.
Afterwards we took a little drive along beach road, east. Enjoyed the touristy environment and after we crossed Wolf Bay bridge we parked and walked the long board walk to the beach for a while. Had the chance to shoot some great water/seascapes but someone forgot to bring the camera. The sun was really warm but we fought the urge to burn and return to the road trip.
Back home after spending several hours bumming I looked around at the mess I started, as your Mom is saying "You know we're going to the Casino in a short while." Looking at the short nipple and filter that aren't going together to well, I put the drawers back in place and Mom put the stuff back under the counter, I decided the couch look more inviting.
Wind Creek Casino has just had it's grand opening and we decided to go for the enticing two for one buffet. The buffet is served from 10 a.m. till 10 p.m. We drove an hour to get there and stood in line for 15 minutes to learn the buffet special is Sunday through Thursday.. hmmmm what day is this....

Saturday January 10th, 2009 Elberta, AL to Biloxi, MS 110 miles gas $1.71 Martin Lake RV $18 PA (map)
Weather people are saying cold and wet for the up-coming week. We left Debby & John with tearful good byes and got underway at 10 a.m. Rain started on departure and poured again through Mobile. Rain stopped as we entered Biloxi and the sun popped out. Temperatures are holding in the mid 70's. after setting up we toured the gulf coast again this year romanticizing. We've spent our honeymoon years on this coast and have been back several times over the years, more often since Katrina wiped out the mansions that lined the sandy coast. Mile after mile of baron coastline. Progress has been made with tons of debris removed. Trees are finally free of clothing and household items. We parked at the beach a few blocks from where we once lived, Glenn's first home. Many evenings, as poor military folk, we strolled down to the beach sit there and watch the sun set talking about where we would be in fifty years. It's evening now with the sun setting and a warm breeze is felt as these two old folks walked the footprints we left forty-nine years ago, watching the same old setting sun, was it yesterday?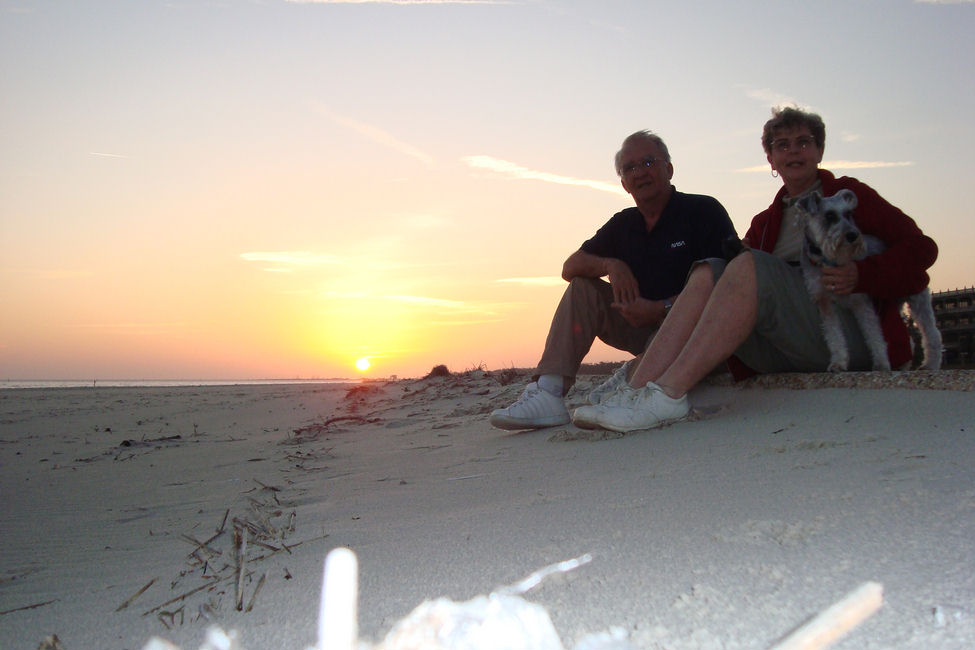 Sunday January 11th, 2009 Biloxi, MS
Cooler and partly sunny this day. We toured the Katrina area again, it's just hard to see downtown Gulfport, the heart of the city, still empty. There is some building going on and some business have opened but it looks like 80% of downtown is empty. Here are few pictures of downtown area. (pic) (pic) (pic).

Monday January 12th, 2009 Biloxi, MS to New Orleans Fontainebleau State Park. Camping $8 78 miles. (map)
Bright and sunny. Easy drive today to Lake Pontchartrain's Fontainebleau State Park, just north of New Orleans. This is a great State Park, Louisiana recognizes the Golden Age Pass Port which give us a 50% discount. They also have a strong free WiFi. We stayed here last year and will spend a few days here again. Mainly cause we are in Beignet country. Here are a few local park pictures. Big trees and Spanish Moss on the Live Oaks at sunset.
Cold front moving in across the nation. Suppose to be in the thirties the next few nights. Highs only in the fifties.

Tuesday January 13th, 2009 New Orleans Fontainebleau State Park.
Happy Birthday Mike... Hope you clean up in Tunica!
Nothing but cold weather talk on the TV for the rest of the week. Sooo Heavy sweatshirt which turned out was way over dressed for the 60 degree bright sun shinny day.
We drove to Slidell, a recovering Katrina small town, and searched out a small neighborhood eatery. Carol spotted clean windows with cars parked close by. This is the place "KY's". We enjoyed Po' boys sandwiches in a nice clean friendly environment. Then and finally the whole reason for coming south (pic) (pic) at the Beignet Station. Maybe not quite as good as last year, or maybe just too soon after lunch. In any case nothing was left on the plates.
Came back to the campground and extended for an additional four days, I guess will tour a little more of New Orleans.

Wk3
Wednesday January 14th, 2009 New Orleans Fontainebleau State Park.
Toured the Quarter this day. Took the $3 twenty-six mile cause way to the city. No big plans just kind of bummed around. We started at Jackson Square cause it's being seen on a lot of TV commercials, and the home of St. Louis Cathedral. We went in and said prayers for all and took a couple pics pic. We walked the streets and enjoy watching the Artist (vid) that gather around Jackson Square. There are very few at this time of the year but you get a feel for what it's like in season. We walked to what was the U.S. Mint and is now a museum. Tried to pocket some of the stacks of "C" notes laying around. Walking back we passed Cafe Du Monde, nothing more to say....

Thursday January 15th, 2009 New Orleans Fontainebleau State Park.
Happy Birthday Errol. Forgot, here is a picture of our campsite. Bright and sunny again today. Today we went for a 3.5 mile nature walk. It was suppose to be 4.8 miles but by the time we got to the 1.7 mile end loop, Bindi said I'm tire of walking on this uneven terrain it's grueling. arf arf. We paused a couple times to let her catch her breath (pic). The Spanish moss and live Oaks are a real treat for us northerners. Not much in the way of wild life, we did see this hidden creature (pic). Later after dinner we walked to the end of the peer to watch the sun..

Friday January 16th, 2009 New Orleans Fontainebleau State Park.
Bright and Sunny all day long. Still enduring cold nights at freezing but this should be the last one. Still gets over 50° during the days thank goodness.
Had a do nothing day this day. Decided to dump today in preparation for early departure tomorrow. Mom said why not fill propane while disconnected, there's a True Value store that pumps Propane just down the road. So that was the plan, at 1:03 p.m. I pulled into this remote, isolated True Value's empty parking lot. Went into the empty store and asked a man in a wheel chair behind the counter, who appeared to be the owner, if propane was available for my RV. His yell echoed through the empty store "Dale are you on lunch?" No reply. He called out three more times "Dale are you on lunch?" Finally a mumbled "Yea." The man behind the countered smiled and looked at me and said it'll be a half hour! I was totally befuddled, I looked at him and could barely get out a soft "Thank you." I was totally stressed out, there was no sign outside reading "No Propane while Dale was on lunch." I just couldn't believe that in this remote area that's pleading for business, that a customer could be treated this way. Needless to say, as hardheaded as I am, I drove off without propane. I'll show him.... hmmmm.

Saturday January 17th, 2009 Fontainebleau State Park. to Sam Houston Jones SP, Lake Charles, LA 267 miles, gas $1.79 (map)
Warmer night did not get as cold as predicted stayed in the 40's. Cloudy this morning as we left the park heading for Laura Plantation. Laura was Creole (French Spanish & Black descent) who assumed the leadership role of the family owned plantation. Our tour guide, Ginger, said it was very common for Creole woman to have run plantations in this area. This 200 year old sugar plantation began in 1803. Laura's family ran the plantation until it was auctioned in 1891 with the stipulation that the farm, thereafter, always be called "Laura." Some of the slave houses were occupied up till 1967 (pic)..
The plantations along the Mississippi River here in southern Louisiana were divided in narrow plots of land. This gave land owners river access but making the parcels very skinny that extended miles inland. (This plot was 1200' by 4 miles) The plantation home is quite modest by plantation standards (pic). We understand that the Creole consider this the business office and although they live there nine to ten months of the year the residence was in the city, New Orleans, where they could the enjoy all the pleasures of big city life.
We pulled in Sam Houston Jones state park at dusk. Sites are tight, we'll check it out in the morning..

Sunday January 18th, 2009 Lake Charles, LA Gassed up the car today for $1.65.
Well our site is tight but no big thing by the finish of breakfast a number of campers left and it appears as if our site grew (pic). Bright and sunny today 78°. Walked the park and enjoyed walking the nice trails. Mom spotted some interesting signage along the walk that got her attention (pic). Took a video of some geese near the pond. If you watch this video turn up the sound as they quack in Cajun (vid). Finished the evening dockside watching Mother Nature (pic).

Monday January 19th, 2009 Lake Charles, LA to 157 miles Gas $1.65. (map)
Talked with Uncle Mike and Aunt Barb today. They plan to leave Foley, AL tomorrow, so we should join up with them Wednesday sometime. They haven't had the warm weather we've had so they should be glad to catch-up.
We exited I-10 at Winnie thirty miles or so into Texas. This is our usual route that takes us along the Gulf Coast. This is the area that hurricane Ike hit hard. The coast is a total disaster. 1000s of homes GONE. Piles of rubble piled all over. It's so depressing to see all this. No stores, no gas no camping. The one campground we usually stop at was open but full of contract labor. Here's a couple pictures (pic) (pic). You can see all we took here (all). The road is clear and the drive is easy but what a mess. Once in Galveston it's a whole lot better but no camping on the island either.
We left Galveston Island and headed north towards Houston. We stopped at a small town called Hitchcock and spent the night at Sunset RV.

Tuesday January 20th, 2009 Hitchcock, TX to Port Aransas, TX 194 miles Gas $1.65. (map)
New president day today, we paused at noon to watched the big moment then switched to the stock market which was crying big time... All in all we had a great travel day bright and sunny and most importantly no traffic. Two lane blacktop, which can be a problem with heavy traffic, proved the best shortest way to the water. Arrived Port Aransas and immediately walked the beach. This time of the year draws few people here so it's like our own beach front property. I'll shoot some pictures tomorrow. We had dinner at San Juan, a restaurant we frequented in the past, excellent chips. Dinner was good too. Back at the camper we had a little welcome home (pic).

Wk4
Wednesday January 21st, 2009 Port Aransas, on the beach.
While camping on the beach we have been in constant communication with Uncle Mike and Aunt Barb. Estimated time of arrival between 4 to 6 p.m. With time to burn we went to the Laundromat then I went over and found wifi. Surprisingly we got the call "We're on the ferry!" It was only 3:30 p.m. Oh that's right someone has a badge hmmm. We drove over to the ferry dock and waited for this picture (pic). We finished the day with dinner at Sea Fish Works and Spaghetti What's in a name? The food was good and the rice was right... especially for me :-)

Thursday January 22nd, 2009 Port Aransas, in the park $18.
Slight chill in the early a.m. but happy to be here (pic). Not a lot happing on the beach, but here's me watching the boat traffic in the channel with dolphins riding the bow waves. After a beach walk, that revealed this live star, we moved from our spot on the beach, to the park. We settled for a couple of empty spots, across from one another, in the center of this picture. Mom closed the deal with Linda and returned to the beach (pic) (pic).
This evening we toured the area a little stopping at the sanctuary. Mike made some observations and Barb did some shooting. The observation platform work great for bird watching (pic). A couple more stops in the area the home for a quiet night with full power.

Friday January 23rd, 2009 Port Aransas, TX
Bright warm and sunny. Walked the beach in the morning then decided to visit the Lexington Aircraft Carrier, which is docked at Corpus Christi.
With Mike in the captain's seat we felt it would be a safe tour. Walking through the enormous hanger deck you have to wonder how it could possibility float. We walked a small portion of the interior which immediately takes you back to WWII with the feelings of the young men who lived and worked aboard. On the flight deck there are numerous static displays that we all enjoyed. Here Mike and Barb pose next to a Tomcat jet. Our departing picture with the mighty Blue Ghost in the background.
On our way home we stopped at Wal Mart and I stopped to talked with the greeter. I asked if there was a good Mexican restaurant nearby. He instantly lit-up and described Puerto Vallarta's which was just next store, with obvious excitement he described the menu emphasizing the Chicken Quesadillas, item 21 on the menu. "In place of the the refried beans ask for the cholla beans, they come in a little pot." I asked if it was real good? His replay "Don't get any beans on you forehead cause your tongue will smack your nose off your face trying to get to it!"
The food was good ask this couple (pic). We'll move on tomorrow to our final southern destination San Benito, Texas. Weather man is predicting cloudy with slight chance of rain so the move should work out.

Saturday January 24th, 2009 Port Aransas, to San Benito, TX First Colony $15 170 miles (map).
Woke to overcast and cooler weather. We are on the road by 10a.m. for an easy drive south. We checked in and got settled down at the First colony RV park, by 2 o'clock. Took the Tomlinson on a small tour of San Benito and then headed over to Harlingen. Don't cha know that about dinner time were were in front of Chapita's, one of the the best Mexican restaurants in all the area. We stopped in and had a super great meal at a modest price. $5.95 with some to take home. A game of Wizard to finish the day.

Sunday January 25th, 2009 San Benito, TX First Colony
Cloudy all day yesterday and for a time this morning. After our morning walk I washed the car then off we went to the Iwo Jima Memorial. Walked the grounds some and revered the statue for a moment before exploring the museum. It is a worthwhile experience and very nice tribute. In fact the gentleman that ran the projector causally spoke of his time at Iwo Jima before showing the tape. He is 84.
We then did a little driving tour of McAllen as the sun started peeping out. We drifted over to Mission then down to the River (Rio Grand). Low and behold we ended up at Pepe's. The place was alive, there wasn't a seat in the house. Music, dancing, and a whole lot of fun being had by all. Pepe's is a restaurant located on the bank of the Rio Grand in the middle of know where. We walked through the bar to the patio and just as we tried to work our way back a table opened up, we grabbed it. There were six chairs at this double and as we ordered our pitcher of Margaritas, Leslie, John and Doug from Canada (pic) ask if they could join us. We all gabbed loudly over the music and did a whole lot of laughing. Mostly when Aunt Barb demonstrated how to get all the salt from the rim of the Margarita glass. We left after downing the pitcher and a huge plate of nachos and started the drive home (pic).
We made it almost all the way home when the car made a quick left in to a "Whataburger." Darn, I'm trying to loose a few pounds too. We daintily munched a small treat (pic) before finishing the trip home.

Monday January 26th, 2009 San Benito, TX First Colony
Partly cloudy and windy a good day for Mexico. Parked in the U.S. and walked across the bridge to Progresso Mexico. The crowd appears less than last year but the street is still lined with sidewalk vendors trying to make a buck. Aunt Barb found some good buys but just couldn't do it. We shopped and shopped and shopped until we found the Coffee Shop. We must of walked a couple of miles before we decided to have an early dinner at Arturos Restaurant. Nice clean place with white linen table cloths and real napkins. Food was priced reasonable at $6.95 U.S. a plate. The food was very good. Aunt Barb has an unfounded fear that all Mexican food is pepper hot. We never found any Mexican food hot other than the salsa. I think she may be overcoming her fear though, she has enjoyed Enchiladas, Quesadillas, Nachos and of course Fajitas.

Tuesday January 27th, 2009 San Benito, TX First Colony
Lay back day. Little walking then the pool picture picture. Mi Rancho for a Mexican dinner did I say Mexican dinner. Afterward, we showed all the attributes of Fun n Sun park. We introduced ourselves to Charles Scanlon, who is teaching square dancing during the week here at Fun n Sun. He said he was helping Nasser out and that Nasser would not be calling here next year. He thinks Randy Doherty may be the caller next season.

Wk5
Wednesday January 28th, 2009 San Benito, TX First Colony
Cold front was scheduled to come in at 2 a.m. this morning and that it did, with a roar. Woke me out of a sound sleep. the house shaking and the temperature dropped over 20 degrees to the low forty's. Woke to a cold cloudy day. We have planned a breakfast out at Chapita's then take in the flea market. The breakfast was good and as we drove over towards the flea market I suggested we take in the used clothing store first in order to give the day some time to warm up.
There are a number of used clothing stores along route 281. We stopped at one which looks like a warehouse. Here you can rummage through unsorted cloths an buy at .35¢ a pound (pic). Or pick from sorted and hanging cloths for a couple bucks a garment. As you can see from the pictures it kind of a fun thing to do.
By the time we left the sun was out, winds have subsided, and the temperature was approaching 60°. We drove back to Don-West (the flea market located between the cities of Donna & Weslaco) and parked close, as some of the early shoppers had left already. We walked and walked and shopped and... (pic)
We returned home and decided to eat some of the leftovers that have been accumulating instead of dinning out. All and all we had a nice day. Of course in the evening a little computer time. Here's a little unbelievable thing Bill sent me, Fast Woman.

Thursday January 29th, 2009 San Benito, TX First Colony
Emily sent me this little shot of a good reason to go south in the winter, cold.
Cloudy and cool, only 64° so we decided to go south for a little ride. heading for Brownsville we stopped at the SAS (shoe store) store. Best thing about stopping isn't the hundreds of dollars you spend on shoes but the good treatment you get inside. Here your mother gets special treatment (pic) while we have free coffee and free popcorn (pic). We then bummed around Brownsville and ended up in Port Isabel where we had dinner, Marchan's Sea Food. Excellent all you can eat fish dinner for $4.95. After munching and watching the pelican off the porch we played in the sand for a time. (pic) (pic) Can you believe? That was pretty much it for the day. driving home we stopped at a gift shop then home for ice cream and cards...

Friday January 30th, 2009 San Benito, TX First Colony
Mom did Wal marts this morning to re-supply. This day, looking bright and sunny, we decided to walk to get some exercise. Drove to a sanctuary where we walked for a couple hours (pic). There wasn't a whole lot to see at this time of the day, but it was nice just being out doors (pic). The only thing revealed at the Alligator Pond were some skinny birds and a whole lot of turtles.
Back to margaritas on the patio after which mom made a spaghetti dinner then ending the day with euchre

Saturday January 31st, 2009 San Benito, TX First Colony
Good bye January. We registered for another week here. We're off to Padre Island this morning for the international kite flying festival. Chairs and cooler in hand we walked a good 1/2 mile to a "good" spot on the flats where we would have a good perspective all the happenings (pic) (pic). You would think this is a lot like watching grass grow, we found it quite fascinating however to see how much control they have over the kites (vid). They had kites for everyone. Here is a soccer kite for Emma (pic). Fish and SCUBA kites as well. (pic) (pic)
We watched for a good couple hours before our bellies took command and off we went in search of fine dinning. Dirty Al's (first choice) had over an hours wait. Since we were close to Marchan's, and the fish was sooo good, back we went. All you can eat $4.95.
Finished the day with a couple hands of cards and that was it. Tomorrow Super Bowl. Mom's idea of Super Bowl is a toilet that cleans itself!

Our friend, Nancy V., said that senior citizen George Phillips of Meridian, Mississippi was going up to bed when his wife told him that he'd left the light on in the garden shed, which she could see from the bedroom window.
George opened the back door to go turn off the light but saw that there were people in the shed stealing things. He phoned the police, who asked ' Is someone in your house?' and he said 'no'. Then they said that all patrols were busy, and that he should simply lock his door and an officer would be along when available.
George said, 'Okay,' hung up, counted to 30, and phoned the police again. 'Hello, I just called you a few seconds ago because there were people stealing things from my shed. Well, you don't have to worry about them now because I just shot them.' Then he hung up.
Within five minutes six police cars, a SWAT Team, a helicopter, two fire trucks, a paramedic and an ambulance showed up at the Phillips' residence and caught the burglars red-handed
One of the Policemen said to George: 'I thought you said that you shot them!' George said, 'I thought you said there was nobody available! ' (True Story) I LOVE IT -Don't mess with old people.

Sunday February 1st, 2009 San Benito, TX First Colony
Lay back day. Gave the motor-home a good washing maybe wax tomorrow. We went to one of our favorite restaurants for one of our favorites specials, Lone Stare's Mahi Mahi, which of course is no longer on special. I was very disappointed, the meal was no where nears as delicious as it had been over the past couple years. Of course I forgot to mention that the service is slow here so all in all the meal was not what I'd hope it to be. We then watched the game and ate some, most, of aunt Barb's ice cream and that was the day. The Tomlinsons are planning on leaving for San Antonio tomorrow so we'll then settle in to some sort of normal routine.

Monday February 2nd, 2009 San Benito, TX First Colony
Wave good bye at 9 a.m. (pic) (pic). I then stood outside and evaluated how bad the home needs polish and after agreeing with myself decided to put it off until a day is overcast.
Took a drive to evaluate a few RV resorts, Tropic Winds, Magic Valley, and Snow to Sun. Tropic Winds was the best with large sites and a clean look about it and some empty spaces. Down side, far east location. Next was Magic Valley which is an older park filled with park models and only a few empty spots. Snow to Sun is newer park also filled with park models and no empty spots. Location is good for both with central valley location near Weslaco. That's the day...

Tuesday February 3rd, 2009 San Benito, TX First Colony
Settling in, morning walk, afternoon bike ride, then spent the rest of the day figuring what we should do without the cold ice and snow. Best to just sit outdoors read drink (tea of course) and relax. Too much sun to polish the m-home.

Wk6
Wednesday February 4th, 2009 San Benito, TX First Colony
Another perfect weather day. Drove over to San Padre to check out camp sites. Found we can get in at the county park during March without a problem. This will put Emily and Lena within walking distance of the gulf and beach.
Now to get a visual on this, here's what to do. Go to google.com - click the word MAPS - When the map appears type in the box "South Padre Island, TX". You'll then get this view of South Padre Island (Pic). Now here's the fun part. Drag this little guy out to the map and as you do you'll see streets turn blue. Placing this little guy on a blue street and get a street level view of the Island's street scenes. You can actually drive (computer) down these streets.. Ahh the marvels of technology.
Had shrimp basket lunch at Pier 19, and no that's not tea. Lunch was good and afterward someone needed ice cream and you'll never guess who (pic). Another walk and that's the day

Thursday February 5th, 2009 San Benito, TX First Colony
Great day. Sit, lounge, read, loaf. Biggest effort was deciding which Mexican restaurant to have dinner at. Today we decided on Vick's. Close and good. The best way to tell how good the Mex food is, is by the patrons. At Vicky's, 50% full, we were the only gringos in the place.

Friday February 6th, 2009 San Benito, TX First Colony
RC club will be flying this weekend and they start today. Mom packed the cooler with some sandwiches and off to Weslaco we went. The crowd was light as this is the first day and winds averaging 25 to 35 mph. but the planes were flying. Here are a couple of the birds (pic) (pic) and most impressive the jets (pic) (pic). Also posted a slide show of the planes (Air-Show).
Took this video of a jet (vid). This hobby sure got high tech and expensive. The big jets sell close to $2000.
Forgot to mention that I talked again with Nick & Pat the other day and his second surgery went fine as well. With both cataracts removed his vision is better than before. Doctor will release him to travel after February 12th. He said he may go a little south.

Saturday February 7th, 2009 San Benito, TX First Colony
Early start this day, Fun N Sun is having their total park garage sale and it's Saturday which means pancake breakfast. By 8: a.m. we were walking the aisles. Mom bought some talking tapes and I just couldn't fine anything I needed. We had a nice breakfast then home to loaf till dance time. Talked with Uncle Mike and Aunt Barb, they are camped on a levee overlooking the Mississippi near Natchez watching the barge traffic. They enjoyed San Antonio and are now in slow route home.
Well after an hour the mall was calling so your mom answered the call while I continued to ponder. Nasser called while I was in the middle of doing nothing and we talked for some time, he invited us to join him and Karen & Dick for a bite after the dance. I thought it was a good idea but it turned out that Mom arranged to do ice cream with Annette & John. hmm!
We had a real good time at the dance. This gave us a chance to say hi to a lot of dancers. Met and talked with Mike Kelly (pic), caller and possible replacement for Nasser, who of course is good friends with Nasser (pic). Afterwards DQ with Anita & John (pic) giving us the opportunity to catch up on all the local news.

Sunday February 8th, 2009 San Benito, TX First Colony
Los Fresnos Rodeo today Da Da. We got there early and had a front row parking spot. It had something to do with the young parking man who look at us and asked if we needed handicapped parking. Mom understanding him to have said do you want parking said "Oh yes!" So as I steered over to the front row close. I ask why did you accept handicapped parking "Huh?"
We checked out some of the 4Hstuff (pic) and ended up in the stadium. Mom relaxed (pic) whiled I went back to the car to fetch a sweater. On the way back I shot a video of this young boy who did much better on the bull ride then Mom. As the stadium filled to over 3,000 and folks started crowed in around us I got a call from Nick. As Nick and I talked a nice Brownsville woman, Angie, cuddled up next me (crowded seating) (pic) we joked a bit about the seating and then after the phone conversation I saw the tike sitting next to her, he's the guy I shot on the bull ride, what a coincident. We exchanged email and I'll send her the pictures.
The Rodeo started and again this year we enjoyed the entire event. The Rodeo lasted a good couple of hours with roping, riding, and all the rodeo events clowns and all. I took a video of one event, and that was the day.

Monday February 9th, 2009 San Benito, TX First Colony
This is moving day. Mom decided we should be located more central in the valley nearer to "things." Before we could leave we have a luncheon date with John & Anita. Chapita's, the restaurant of choice, our destination. Lunch was delicious. I had "enchiladas de blah blah" which was excellent. It consisted of a couple enchiladas and a scoop of beef hunks with gravy, rice. Personally I rarely order beef at a Mexican restaurant cause I seem to always find poor cuts of beef. This restaurant is the exception the beef was extraordinaire, dang another 3 lbs.
Late afternoon time to pack it in. got everything pack-up and we are on our way. We drove some 25 miles to Trophy Gardens where there are a few other Michiganders. We stopped at the office and picked up the lay-out and then drove over to select a site near the dog walk. We located a site, cement pad, a little tight but acceptable. Disconnected the car then went to connect and found we had no cable no internet, hmm. Mom said were going to be here for a month with no TV (4 local channels Spanish?) and no internet hmmm. And, were paying more. So I asked what are we going to pay? Mom said well the basic is $487 plus electric. I asked what's First Colony? $376 and we get cable and internet and larger sites. Hmmm. So here we go, your Mom said maybe we should go back to first Colony. But we just said good bye to Carl & Linda, John & Anita and all those people we waved to as we drove off, what are you going to say? "I'll just say I want to stay a month." "OK." Turned around and left the car disconnected for Mom to drive and we drove back to First Colony.
Signed for a month, so we'll be here till March 9th at that time we'll move to South Padre Island.

Here's a very nice read !

Tuesday February 10th, 2009 San Benito, TX First Colony
Morning dog walk past the office showed some group activity inside. Hung the dog leash on the fence and went in. Coffee and doughnuts, oh well, this is a regular Tuesday morning activity, but Chris, the manager, was kind enough to say it was a welcome back party for us. :-)
Did some exercise in the pool this day then went out for late lunch early dinner to Mr. Gatti's (pizza spaghetti buffet). Nice clean operation with good pasta and a continuous supply of fresh glazed cinnamon rolls.
Older folks do have fun around the RV parks as seen in the montage video, thanks Pete.

Wk7
Wednesday February 11th, 2009 San Benito, TX First Colony
Great day, trying to get some sun while in the pool today and that doesn't work to well. Now most seniors don't want sun but want to cool off so that's why seniors sit shoulder deep with sunglasses and a hat on.
Bean dinner at the club house this night. Mom signed us up for the fun raiser, $2.50 ea. I thought the thick bean soup with meat and rolls was very good, Mom thought is was a little too thick for her liking. Washed the car today and that was about it for a great day.
Ron sent me the Tom Katz dance pictures so I'll have get them posted this night.

Thursday February 12th, 2009 San Benito, TX First Colony


A rare day in the Rio Grand Valley. Looking outside this morning all the flags were hanging limp, not a breeze to be felt. So as the morning progressed I finally was rested enough to start applying polish to the motorhome. Finished the back when the sun brighten up and I had to quit. Mom wanted to dance today so in checking the schedule we found an advance workshop at 1 pm. We drove over to Lakewood RV to danced to Mike Kelly. Renewed acquaintances with a number of advance dancer who we've danced with before. Caller Nelda and husband Jon Eaton along with Cuer Karen and husband Dick Fisher were among our squares.
This evening after the sun set and we got settled in we realized that Bindi did not get her treat today so back in the car and off we went to the DQ for her baby cone. Seniors!
A little side note: The link to the Rio Grand Valley web (rgvsd.com) is the best square dancing source in the Valley. You can find a dance by the day of the week, or caller/cuer, or resort, or event. or level of dance. It doesn't get any better than that. Someone should be recognized for a great job! NS

Some notes are just too great not to pass along, Thanks Linda. email

Friday February 13th, 2009 San Benito, TX First Colony


Grocery shopping this morning, and then in the pool for exercise. Talked with this couple in the pool who said "We're from Michigan." Oh, I said, we're from Michigan too, where abouts? "West Bloomfield, how about you?" St. Clair Shores. "Yada yada yada we use to have a sailboat." Ah yes, we had a sail boat and use to sail Tobemory. "Oh, we sailed Tobemory all the time. Yada yada yada. I enjoyed SCUBA diving with my daughter. Blah blah blah." Yes, Carol and I are certified where did you get certified? "In Farmington Hills." My son owns a Dive Shop that was called Don's Dive in Farmington Hills, it's now called Sea the world. "Wow, that's where I was certified!" Small world huh?
Called Dick & Brenda, (Jayco friends) arrived at Tropic Winds, Harlingen, and were all settled in. We talked 0n the phone for a time then we went over for a visit. They've been on the road since December 7th bumming around northern Texas. We'll be going to the Good Sam's Rally with them in April. After catching up on the travel adventures we went to Chapita's for dinner. Hmm good!

Saturday February 14th, 2009 San Benito, TX First Colony


Busy day today. Mom called the Dunhams (Dick & Brenda) and suggested a day at Don-West, the flea market. The sun was bright and the temperature was up there, mid 80s. Strolling the isles under the sun brought Dick to suggest Ice Cream. Low and behold there I was right in front of the soft serve counter ordering a combo twist. Thank you Dick. We finished our shopping and returned home to enjoy margaritas on the patio. Here a shot of Dick's toy truck.
Took some time to freshen up then attended Fun'N Sun's square dance with Mike Kelly calling. We had nine squares dancing and had a real good time. lots of laughs lots of fun. Invited John and Anita over for some Mom's homemade apple pie afterward. We rehashed the dance and solved some of the worlds problems before retiring for the night.

Sunday February 15th, 2009 San Benito, TX First Colony
Overcast but warm and pleasant. Talked with Nick and learned his eyes are doing good but repairs from ice damming damage are slow. Thinks the repairs may be completed by weeks end. He said if they are done he will take a southern vacation.
We drove over towards Harlingen today to check out a hiking biking trail. We walked a couple miles on it then feasted on a "Whataburger!" Got back home in time for the ice cream social so this day worked out perfect.

Monday February 16th, 2009 San Benito, TX First Colony
Still somewhat overcast day. Played around home till the 3pm 'Advance' dance at Lakewood. Good dancers with a whole lot of laughing.
Printed out a detailed local map then drove around to locate roads we can safely bike on. Since were out in the sticks the major roads don't accommodate biking and the back roads are loose gravel. We found 15 miles we can do on our bikes right from the park. Quiet evening at home.

Tuesday February 17th, 2009 San Benito, TX First Colony
Sunshine this afternoon. We tripped to Mexico this day with Dick and Brenda. On the short drive to the border we stopped to quench are sweet tooth on sugar cane (pic). This is their first trip into Mexico and they were focused on vanilla. So prices were compared (pic) then the purchase (pic). Some of the prices are so so and others are to write home about (pic). we got our couple of mile walk in before returning stateside. Dick treated us to dinner at Vicky's, an excellent meal. We finished the day gabbing at our place.

Wk8
Wednesday February 18th, 2009 San Benito, TX First Colony
Craig mail us our mail which we picked up yesterday and read today. Boy is that fun! Sorted all the paper work then spent better part of the day updating our budget program and getting everything in order. 90ish today so the pool was a necessity... along with MGD!

Thursday February 19th, 2009 San Benito, TX First Colony
Cooler today high only 75°, perfect for the military review at the Iwo Jima Memorial. This year is the 64th anniversary of the invasion of the Island. The Marine Military Academy, a private school surrounding the grounds of the Memorial, observe this day each year by passing in review before a large crowd. The event started with a band that played for an hour or so while they passed out free hotdogs, chips and drink.
We met Dick and Brenda there and together we enjoyed the entertainment and chow. There were a lot of veterans here, I think I counted 16 survivors of the Iwo invasion in front of the reviewing stands.
The students of the Military Academy marched in and assembled on the parade fields across from the review stand. We all paid our respects to the colors then the proceeding commenced. Commands were shouted out and then repeated by the next in command "Pass in review" as the student marines, flight after flight, march by towards the reviewing stands. It was heart wrenching to see these 80 year old veterans stand at attention and salute the passing flag. I wish I could of got the picture while they were marching by, I had to wait until they were out of the way (pic) (pic).
One of the lighter moments, as the marine cadets stood at attention in the gusty wind a hat or two would blow from one of their heads. The marines didn't budge and inch. A medical aid standing in the background would pick up a hat and place it back on the soldiers head. (pic). (Tuition for the academy is $26,000 a year)
This song Sal sent me seems kind of fitting here. Over 9 million hits and I never heard it on the radio. Youtube link.

Friday February 20th, 2009 San Benito, TX First Colony
Well the weatherman said a cold front is coming in and possible rain (30% chance) for Saturday and Sunday. So today, Friday, we decided to take Dick & Brenda to South Padre Island just to get acquainted with the area. It's about 75° and mostly cloudy so it should be pretty nice. On the way down we took a little detour through old town Brownsville. After a little drive around old town we head out to Padre.
On Padre we walked the beach for considerable time, way past lunch! Dirty Al's is a well known popular eatery on the Island, so off we went. No outside line today and only a short wait inside. While waiting square dance caller Nelda and husband Jon came in with a group. A surprise hello, a few yellow rocks and it was time to sit. Can you believe it's 2pm and the restaurant is full. Mom had shrimp and salad in a taco shell and I had Shrimp and fries, the meals were excellent. The fries were extra special, crispy with a spicy crunch, very different very good. Tummies too full so it's back to the beach to walk. Drove to the far north end of town then walked the sandy beach. Lots of sea grass wash up but I guess it's because of the stiff breeze out of the east for the past couple days. Walk walk walk.
Heading home across the inter-coastal bridge into Port Isabel, just off the bridge stands a lighthouse. Brenda loves lighthouses, so we stopped so Brenda and I could make the trek to the top (pic). Well after such a full day of walking walking walking it was definitely time for for for, yep, DQ, an excellent way to conclude a great day.
Our day was full and we were ready to relax back at home but Bindi must of been lonesome for there she sat waiting for her evening walk (pic).
Today's email from Jim H revealed a reaction test. Now I don't know if it's the time of day, the exhaustion, or senior status but the best I could do was "Ambling Armadillo .321 sec ave." Give it try and let me know.
Reaction Test

Saturday February 21st, 2009 San Benito, TX First Colony
Cloudy this morning and finally the awaited rain. Started about 1pm and finished about 1:45. Nice heavy rain the first since we've been in Texas. I'm sure the farmers wanted more. Danced this evening to Mike Kelly, we had ten squares dancing. Mike is a fun caller mixes things up real good to where we do a whole lot of laughing. Nasser was to have called but I think it rained harder in San Antonio and he didn't make it down, maybe next week.
After the dance we went out with John & Anita. We end up at this place called Dairy Queen, hmm hmm good.
Today's email from Errol got my attention regarding a restaurant in Arizona called Heart Attack Grill, it has meals you can just die for! This video says it all (vid)

Sunday February 22nd, 2009 San Benito, TX First Colony
John & Anita picked us up for a special lunch. We drove out to Raymondville, some twenty miles or so, to a restaurant called Casa Blanca Restaurant. Casa's specialty is the Sunday Smorgasbord. Smorgasbord it was, a huge spread to choose from, way more than you could ever stack on the two plates we took. A choice of two meats from the fried chicken, chicken fried steak, roast pork, or smoked ham. I took the roast pork and chicken fried steak along with samplings of half of what I could reach. This, as John and Anita said, is the best home cooked American food in the Valley. Verifying this was easy cause guess who just happen to be here at the this wait in line place to eat.. Yep, Jon and Nelda, the same couple we ran in to at Dirty Al's. (They only eat at the finest places.) :-)
You know this restaurant, Casa Blance, has to be great. Here we are at 11:30 am, in the country side, at a small unobtrusive place, nothing else around for blocks, and you can't find a parking place. Fortunately for us, because of Anita's knowing, we got there and only had to wait until they sat eight or so before us. What a meat and all for $9.50.
What did we do for the rest of the day? Well after considerable time on the couch your Mom drug me to a bird sanctuary for a long walk the dog conclusion of the day.. Oh boy, still so full we passed on the ice cream, groan.
Uncle Craig sent me the link to TV2 news report where aunt Barb's Kaiser was featured. (Link). Beautiful Shepard.

Monday February 23rd, 2009 San Benito, TX First Colony
It's official! Spring Break has begun on South Padre Island. TV announced that the first spring breakers have arrived today. A group of students from MICHIGAN who drove 30 hours straight through to save time and money are on the beach.. Still two and half week before Emily and Lena arrive, I'm sure the Island will be packed by then. I'm sure the girls will bring their books to do a lot of studding while there here. What'a ya think?
Square dancing this afternoon, Wal-Marts for some groceries, then home for a quite rest of the day. Spent some time talking with Errol last night and that was our day.

Tuesday February 24th, 2009 San Benito, TX First Colony
Doughnut dance this morning, abt 20 squares. Nice day so Mon invited McKenzie over to visit Bindi. Dick & Brenda brought their pooch over for the visit. Bindi started off a little too aggressive, I had to squirt her down to settle her down. They finally got into it (pic) (pic). Needless to say after a couple hours of biting on each other they will sleep well tonight. We hung out on the patio and solve most world problems before calling it a day.

Wk9
Wednesday February 25th, 2009 San Benito, TX First Colony
Mon made arrangements to do the visitors center movie with Dick & Brenda this morning when we got a call they were on the way to an emergency vet visit. They have two dogs, McKenzie and an older dog named Cinder. Cinder is real old and appears to be having a stroke and could not navigate. Well a couple hours after the visit and what ever the vet did he appeared to be OK.
We got together meeting at the visitors center and watched a movie about sugar cane in the area. Loaded with an abundance of knowledge about cane we retreated to the adjoining patio area to share our knowledge (pic). Rare photo (pic). We talked for a time and decided to check-out the west end of the valley. We did a little drive through of McAllen and stopped in Hidalgo (E da go) the city where the Killer Bees first entered the USA. (pic). We did the required photo opt (pic), then moseyed on for dinner at Pepe's. Needless to say after Margaritas some where exceptionally happy (pic). We split a burger and enjoyed the entertainment of Gordy Wensel & Debbie Kaye (pic) country singers. Very good music with lots of dancing going on. For Branson followers they work at Mel's Hard Luck Diner. I'm sure they waited on our table when we were there. Fun People!

Thursday February 26th, 2009 San Benito, TX First Colony
Bright hot sunny day with wind. Square danced with Mike Kelly this morning, a lot are leaving so this might be our last Thursday morning dance with Mike. Afterwards we did groceries at Wal Mart and walked at night. Spent some time on the phone with Patti to help get their web off the ground. I think she flying hot true and normal now,
PAT & NICK. That's the whole day...

Friday February 27th, 2009 San Benito, TX First Colony
Sad day today, went to the $1.50 show to see Marley and me. That wasn't the sad part it was having to go to the .99¢ store afterward. The upside is we had a Mexican dinner, hmmm.
Got a call from Nick, he's in Kentucky and moving south, sounds happy to be there. One thing for sure they won't have a problem finding a camp site. Each day now a few more rigs leave.
Played euchre with Dick & Brenda to finish off the day. We played the men against the woman, come to think of it that was the saddest part of the day.. Women won.
Interesting reading email from Janet detailing the experience of one of the passengers on the landing in the Hudson River. The flight flt-1549

Saturday February 28th, 2009 San Benito, TX First Colony
We bid a fond farewell to February this day. And, what a day it started off to be, overcast and cool this am. The overcast turned to a mist, winds picked up, then rain, then driving winds.. all this by 10: am. By noon the temperature dropped 20° to 54°. On top of that gas prices shot up from $1.54 a gallon to $1.81. Let's hope all this is short lived. Sun shine at 4:30 pm.
Dancing at the Fun N Sun this evening to Nasser, a real fun time. All the songs were 50 years old. For some reason they didn't seem so old, in fact I remember all of them quite well... hmm. John & Anita took us for a treat after the dance to put and ice cream top on the evening.. Thank you!
Leaving Fun N Sun we seen seven more rigs poised and ready for early departure.

Sunday March 1st, 2009 San Benito, TX First Colony
Bright sunny and mild this morning. Dick wanted to pick some stuff at the flea market and I wanted to do a test run to the airport. So off we went to Don-West to do a little walking around and shopping. Guess who we bumped to? Fellow Michiganders John and Marilynn. We talked awhile and made a arrangement to have lunch this week. Concluding our business at the flea market we left for the airport. Everything was straight forward traffic wise and no problems foreseen. Lunch was Pizza hut, so mom's happy now.
We were invited to the Dunham's for a card game this evening. It appears the men have to prove something, which they did handily by winning five straight out of six games.... Sleeping on the couch tonight!

Monday March 2nd, 2009 San Benito, TX First Colony
Great day, put some miles on the bikes this morning. Took Bindi for a grooming (pic) (pic), and that's the whole day..

Tuesday March 3rd, 2009 San Benito, TX First Colony
Danced at Lake Wood park this morning, hard to pass up the pastries. Back at our park afterwards it was laundry day, which means it's time to do the pool while waiting for the cloths to dry. I was sitting in the hot tub talking with a couple from Wisconsin when Nick and Patti pulled in. They set up camp in the same site Mike and Barb had, next to ours. I peddled back home where we shot the breeze catching up on their travels down. Everything went smoothly this year.
Dick & Brenda invited us out to dinner this evening so we invited Nick & Pat to join us. We ate at the nearby Longhorn Cattle Company which holds a very good longstanding reputation for good food. I had a half rack and Mom had half a chicken. Food was good. Dick brought along another couple, Gary & Rusty, Jayco friends, who we've met before. Afterwards we capped the evening at our place (pic) (pic) (pic).
This was a goodbye dinner as Dick & Brenda are moving on to San Antonio tomorrow. We'll catch up with them again in New Mexico in April. Five days from now we'll be moving down to the Island, South Padre, for a month. We'll patiently await the arrival of Emily and Lena AND 20,000 other spring breakers.

Wk10
Wednesday March 4th, 2009 San Benito, TX First Colony
Nick wanted to pick-up something at Don-Wes flea market so we tagged along for the ride. As we strolled the market guess who we pumped into again? John & Marilynn. We assumed they must live there but the reality was John had a wheel cover made and had to bring it back for the third time for a proper fit. We all decided to have lunch together after marketing.
Rusty & Gary (Jayco friends) told us of a restaurant in Donna that you waited in line for a hamburger, but it was hard to find. There is no name on the building, it stands along in a non descript area. We were told to look for "all the parked cars" on Silver avenue. So that we did. We toured Silver avenue looking and looking, "excuse me miss is there a hamburger place near here?" There were a lot of cars parked around, she pointed to a building just beyond the bushes with some people milling around the porch. We parked the cars and headed to the door for another eating adventure (pic).
There were about eight banquet tables inside and a few more on the front porch. The counter/grill was crowed with patrons, and you could not tell what was going on. We discovered that you have to stand in line to place your order then they will call you when it's ready. On the menu, Hamburgers, fries, onion rings, and soda (pop for the Michiganders). The counter area was crowded with at lease a dozen people waiting to pick-up and another dozen waiting to place an order (pic). Fifteen minutes later we placed our orders. We waited 45 minutes for the orders to be filled.
We watched the production line of workers just behind the counter. The grill was filled with the biggest patties I've ever seen, the prep table next to the grill was the assembly area where each burger was filled with fresh veggies and condiments. Let's see now there was one person on the grill, one on the fries, one assembling, and one at the register. The secret to their success, 140 pounds of beef ground fresh each day and made in to 1/2 lb burgers served on fresh buns. Hmmm good! I'm sure Nelda knows of this place and I'm sure we would of bumped in to her here as well, if she wasn't out of town.
Future reference the building is located at 14 st. and Silver avenue.

Thursday March 5th, 2009 San Benito, TX First Colony


Lay back day, pool in the morning and home cooking all day. This evening we went with Nick & Pat to the Peppermint Palaces to dance to Jerry Story. Jerry is among the best callers in the nation, very enjoyable to dance to. Several Michiganders were also there, Dick & Linda Johnson and Bob & Nancy Crampton from our local clubs. On the way home we were able to located a DQ to stop at.
Email, thanks Linda for the (vid)

Friday March 6th, 2009 San Benito, TX First Colony


Only a few more days left until we head out for South Padre. Lazy day, took Nick & Pat over to Chapita's for dinner. Things didn't go well there, slow service for some reason, but the food was good. On the way home we looked for some parrots that we were told hung around the shopping center's lot. We looked to no avail. We did spot a soft service ice cream place where Nick treated us to a cone. We ended the day with a card game and lots of conversation.

Saturday March 7th, 2009 San Benito, TX First Colony


Windy and warm. This Morning your Mom found the Jackson Street Market days. Your basic four block street sale. We parked across from this large wall that was uniquely painted (pic). The street was shut down and loads of vendors were peddling their wares (pic). They had entertainment (pic) as well a food vendors. A nice variety "stuff" but nothing we really needed.
Dinner dance this evening. We had a nice dinner in the hall after which Mike Kelly called a few tips before the dance officially started. He said he felt like a audience warmer upper for the star caller of the evening, Nasser. This was Nasser's last official calling at Fun'N Sun as he has moved to San Antonio.
Dancing in the Rio Grand Valley is a great dancing experience, there are so many good dancers. Example, as great a caller as Nasser is, calling progressive squares with 16 squares and have you end up in the right place is outstanding, and we did.
Progressive squares is where all squares are initially lined up in a grid example. 4 squares by 4 squares. The caller then moves everyone around individually as he calls, you're separated from your partner, you're moved to other squares, you dance around the floor then you finally end back in your original square with all the same dancers you started with. Nasser did this for the hash call as well as the singing call. Great fun.
Nelda called a tip (pic), she has magnificent voice and does a real good job. Jeanna accompanied Nasser during a singing call, they sound very good together (pic). This is a picture of some of the dancers we danced with this night (dancers).
I was reviewing what we've done over the last several days, have you any idea of how we ended the day? John & Anita, Nick & Pat, and us ended up at the Dairy Queen for some soft stuff. hmmm.

Sunday March 8th, 2009 San Benito, TX First Colony


Nick & Pat move further west this day, to Mission. We played in the water for quite some time. Mom did the laundry in preparation for Mondays departure to South Padre Island. That's the day.

Monday March 9th, 2009 San Benito, TX First Colony to South Padre Island Isle Blanca Park 36 miles


Warm & sunny. We said goodbye and left for the short ride to South Padre. Our pre-assigned spot is as close to the beach as any site here. There is only a sand dune between us and the beach. I think that's a good thing as the wind is off the water and the dune protect us.
After settling in we went to the beach. We sat on the curb for awhile just sucking up the environment. Before us is the family beach, several families are scattered nearby (pic). We walked the beach heading towards the area where spring breakers gather, barley visible in the distance (pic). We walked over a mile to the Coke Cola band shell where several hundred student were prancing about (pic).
I don't know if these were real students or from another planet because when they jump and flip about and stop, their bodies stop. Now when I jump or shake about and stop, my body continues to shake and quiver for several minutes...

Tuesday March 10th, 2009 South Padre Island

Isle Blanca park
Listening to the radio we heard last year they had 80,000 students here, this year they expect 20,000 less. The peak week starts this Friday as southern Texas school start their winter break.
Beach life is demanding, as we were on the beach at 8:15am. Each night they rake the beach and in the morning it look this, here a para-sailor prepares his rigging (pic). We patrolled the waters edge looking for gold trinkets that may have wash ashore. No gold, the only thing of real interest was a huge freighter that was being towed in (pic) (pic). We return home by 11 am for some brunch, and a little resting. 1:30 back on the beach for another two hours. Lot more folks on the beach at this time and some pooches too, everyone loves a good lap dog (pic).
We heard of one good Mexican restaurant on the Island but as we drove around we could not find anything that was Mexican specific. We settled for a restaurant called Swordfish and Mexican Food, we were pleased with the meal. Back home took Bindi for a long walk around the park after which we took a bike ride to check out the road ways. This is a very demanding life but...... someone has to do it. All and all we should be able to stay in all day tomorrow.

Wk 11
Wednesday March 11th, 2009 South Padre Island
Sunny and warm. Breakfast then we're off for the morning walk.. and walk and walk. Naw, it wasn't bad, in fact it's very enjoyable. In fact we had waked over two miles up the beach before we said "Hey we have also walk back." It was about this time when we seen the cutest sight. A man was peddling his bike up the beach and along side of him was his dog, Golden type, running along side of him not on leash. He did in fact have a heavy leash in his mouth and on the other end of that leash was a tiny Chihuahua (pic) (pic). You have to check this short clip out (vid). The band shell (pic).
After lunch we went for a bike to find this Mexican restaurant John & Anita told us of. While peddling we got a return call from Anita restating the restaurant was next to the Super 8 and has the Mexican name "Mamacita's." Well how can one miss that. We continued peddling to the Super 8 and low and behold there it was in big print "The Big Donkey" (pic). BIG DONKEY?? In fine print way at the top of the building Mamacita's ! OK, now it's on our bucket list.
Feeling bad for the girls. They're arriving Friday night and tomorrow a cold front is to move in and it's suppose to be cloudy and cold for several days. Returning to sunny and warm after the front passes.

Thursday March 12th, 2009 South Padre Island
Cold front arrived, windy, cloudy and it's down to 68° this morning.. Good day to do nothing and nothing is what we did. Well almost nothing, went out for dinner to the highly recommended Mamacita's. Mamacita's is a fun place, a few spring breakers were in the bar area karaoke-ing while the main dinning area was near empty. Food was very good and a definite "go back to." Mr. Dooley took good care of us. Mamacita's, Dirty Al's and Daddy's are all owned by the same owner and appear to do very well on the island. Their web Dirty Al's. We'll have to try Daddy's... Tomorrow the girls arrive!

Friday March 13th, 2009 South Padre Island
Cold, wet, cloudy, the worst weather since being in Texas. Only bright spot is this is the day our company arrives. In preparation laundry was done first thing and all the odds and ends lying about got stowed, we're ready. 5:00 pm got the text message "We're on our way!" Now the wait. Ran Bindi on the beach, came back a little damp. Worked a few Sudokus then it was time. We jumped in the car, Mom, dog, and I and started out but had to do a quick return for the phone, we're on our way. Now a short wait at the airport (pic).
Right on time, 10:45 the girls are here, welcome to Texas Emily & Lena (pic). It's been along day for them, school all day, directly from school to the airport, five and a half hours in the air, and now the long ride back to the camper. First a quick energy stop, Whataburger! (pic).
Good night!

Saturday March 14th, 2009 South Padre Island
Cold, wet, cloudy, only a tad bit warmer and a smidgeon dryer. A pancake and bacon breakfast then we decided we'll make the best of it. Plan A, do a little walk around to acquaint with the immediate area then a drive around to expand observations from the car.
First a walk to the empty beach pavilion, then the first step on to the beach (pic). We did a short walk on the beach here then drove uptown to see the Spring Break band shell set-up on the beach. This was over a mile walk on the beach and we all survived in good shape. Next we checked out the availability of horse back riding on the beach and the owners Long Horn Steer (pic). Now for what girls do best, shop. Stopped at a nearby souvenir shop (pic) (pic). With that exhausting adventure concluded and with all present now in possession of matching souvenir tee shirts, Thank you girls, it was time to eat. Dirty Al's of course (pic), with a sign like this in the window, how could you resist (pic). Sprits are high, weather seems a little better so we headed to Brownsville for a road tour. Sky is brightening on the road then finally we had to make a quick stop for SUN (pic).
We finished the day with a few games of rummy-o, and all hoping for better weather tomorrow!

Sunday March 15th, 2009 South Padre Island
Little warmer, little dryer, but still overcast. Schedule... Turtle recovery center, then more shopping, and then head to Progresso Mexico.
Turtle recovery is a little turtle farm that a woman started years ago and has now grown to a nice size facility that has numerous large tanks. Here they incubate captured eggs for safe re-entry into the gulf, and injured turtles are rehabilitated to be returned to the gulf. Some of the poor creatures have extreme difficulty getting back into the water (pic).
After leaving the farm we did a little pre-shopping at a gift store (pic). Had to do the shells (pic), then talk with Tim (pic), hat shop (pic), then back on the road to Mexico.
You pay to leave the U.S. (pic) as well as paying to return to the U.S. After paying we walked across the bridge taking the obligatory crossing picture, They shopped at numerous street vendors until they found exactly what they needed (pic). Dinner at Garcia's (pic) then the toast to a successful day (pic).

Monday March 16th, 2009 South Padre Island
Extra warm and sunny, Hooray! Beach first thing in the morning, notice the big smiles (pic) and we enjoyed it as well (pic). Soaked up sunshine for a couple hours then of to the races, well at lease to the horse barn. After lunch the girls wanted to ride horses on the beach. They got their mounts at the stable, Vegas and Dancer, and left for the beach (pic). We watched the departure and the return ride in (pic) (pic). They enjoyed themselves but I don't think they'll enjoy sitting for a long time.
The town is jumping today, everyone is out taking in the sunshine. Driving past the bungee jumping area we caught someone being shot into the sky. "We want to do that!" Talked to the cashier and then right into the chair . (There wasn't a long line.. hmm) (pic). The seat is locked to the ground and after being strapped in securely the big rubber bands are stretched 75' in the air. Then without fan fare the seat is released and the chair is rocketed skyward. The rubber bands are now stretched-out skyward and the seat is over 100' in the air. The seat tumbles downward flipping and rolling as it bounces up and down until finally settling back on the ground. " What a ride!!" The video.
Enough excitement for one day. Back to the beach while Mom puts the finishing touches on a late dinner. After dinner the girls want to do Wal Marts so we took a load of laundry and headed to the mainland. Finished the shopping and while waiting for laundry the DQ was only a block away so.....
At home we capped the evening with a game of Wizard, the two rookies kick butt. "Goodnight."

Tuesday March 17th, 2009 South Padre Island
Happy St. Patrick's Day! A perfect day it tis. Sun, warmth and NO Texas breeze. First thing on the menu today is Parasailing. That's where you hang from a parachute and a power boat pulls you aloft. Then the beach for the rest of the day.
We drove a short distance out of the park to the marina and signed all the necessary waivers. Took the family photo to show off our new tee-shirts (pic). We all loaded on the boat (pic) for the short boat ride into the harbor. Girls are suited up and ready (pic). They get strapped into the seat (pic) and up up and away (pic) (vid). The captain keeps a close eye on them as he circles around the harbor (pic). The ride was short but very sweet. They really enjoyed the adventure.
A change of cloths and we are off to Daddy's to enjoy some Cajun food. First up was an order of Crawdads (As recommended by Nasser). Nice healthy platter of plucked breaded tails (I guess), very tasty and we all enjoyed them. We all ate Cajun and thought it was real good. A little on the spicy side but full of flavor.
Gram and gramps did the beach for about and hour then retired to the camper while the girls hit the beach all afternoon. No bad sun burns cuz of the use of a lot of sun screen. I'm surprised they didn't slide into the gulf for all the sun cream they must of used..
Evening ended on a fair note. Each of us won a game of Tile Rummy so no stress.


Wednesday March 18th, 2009 South Padre Island
Beach day today, all day! First off we drove 10 miles north of town, on the beach, looking for that deserted beach where those exotic sea shell are stored (pic). The girls walked and walked and did retrieve some shells but not quite the rare ones. After cooling their heels (pic) we headed back.
We drove over the bridge to get a view of the Island from the top of the lighthouse (pic). At the top of the lighthouse looking back to the Island, you can see about where we camped, to the right of the two towers (pic). Driving on to the Island you'll pass the welcome sign which requires a picture (pic). Once back at home it's towels and down to the beach.
The girls disappeared in the throng of kids (pic), while we stayed in the family area (pic). They played volleyball, swam, and walked among the crowed. We walked a bit and snoozed a bit. After a time the girls thought about the return trip home (pic).
We had a home cooked dinner then celebrated Emily's birthday a week or so early (pic). Later we watched the sunset (pic).

Thursday March 19th, 2009 South Padre Island
Out of bed at 7 a.m. for the trip to the airport, back to the big city for the girls today. We stopped at IHOP for breakfast and still got to the airport in plenty of time for the 10:57 departure, which was postponed to 11:36 and postponed again to 11:57. Boy another couple hours in the sack would of been nice. They of course missed their connecting flight in Houston and were held there till 5 p.m. That means Metro about 8 p.m.
Goodbyes are hard (pic) but we knew it had to be. (pic) (pic). They arrived home safe and sound.

Friday March 20th, 2009 South Padre Island
Happy Birthday Robbie! Happy Birthday Ed!
Quiet day here today. Did a little rearranging to get tings back to normal here. Walked the beach a couple times as the weather continues to be perfect. Took the bikes out for a spin and can't believe the amount of car traffic on this small part of the island. Restful day.

Saturday March 21st, 2009 South Padre Island
Nick called yesterday and invited us to join him in Progresso, as their having their annual Tourist Appreciation Day. We both arrived at precisely the same time and I follow him into the parking lot. We arrived at 10 a.m. and found all the parking lots full. We ended up in the rear overflow lot which was half full already. I've never experienced anything close to this kind of crowd. I could not imagine where they would stick all these folks along the tight sidewalks of Progresso.
As we passed through the welcome area I was relieved to see the main street completely closed down to auto traffic. The street was filled the people, vendors, stage shows, and more and more people (pic). To bad the girls could not have stayed a couple more days. They served free food (pic) free drinks (pic). We sampled some of the free food (pic) before going to Garcia's for lunch. Along the street lots of free entertainment (pic) (pic). We watched some of the colorful dancers at one of the three different stages that were set up along the street (vid) (vid). Full of treats, food and drinks it was time to head back. I think about a thousand people had the same idea because the turnstile area was packed full. My thinking was that it was backed up all the way from the U.S. customs. After passing through the turnstile we were relived to see that it was a clear shot to customs.
Returning home was uneventful except as we approached the only bridge to South Padre Island, it was bumper to bumper all the way across the bridge (pic). The drive across the mile bridge took over ½ hour to make, yep spring break is still in full swing. The resident rule is stay of the streets from noon till midnight. I see why!

Sunday March 22nd, 2009 South Padre Island
This must be the last official day of spring break cause the beach is packed. The family beach area in front of us is all umbrellas. With a week of perfect weather and with Mexicans big on family activities on Sundays, you can't move on our beach. I wish I would of taken some pictures. Off the beach, we drove across town to check the activities, things seemed a litter quieter in town. Bridge traffic seemed to be moving better today.
Carol found Sandy who does hair, so this evening we had in camper hair perm and while the smell was doing it's thing she cut my hair. How is that for service?

Monday March 23rd, 2009 South Padre Island
Few more rigs left today. We were on the beach a little after 8: a.m. and there were very few others there. They raked the beach again and it looked like a million bucks (pic). As the day went on the predicted winds finally arrived. Para-surfers were out again with their chutes well filled flying across the pounding surf. It's fun to watch them as they are pulled high in the air and some do flips. At the end of this video he is pulled 20' in the air (vid).
Our walk started before breakfast and well it almost noon now, brunch or lunch? Shrimp sounds so good now,
Dirty Al's it is! Ordered Fried Shrimp $7.95, you get six shrimp & fries. What make this good is that the shrimp are butterfly-ed and their size, with one bite for each wing of the butterfly and the third bite pulls the body from the tail, you get a lot to eat. They give you seven in the order of six, so that's twenty one bites of shrimp along with too many fries. What a lunch! Can you believe your mother took half home in a doggy bag.
Well Spring Break is not completely over, Illinois is starting their break. We walked down to the band shell and found a lot of kids, about half of what had been there. So the party goes on (pic).
I knew it was a good day as your mom found a penny on this morning's walk and said "Wow a penny and it's heads up, you know what that means?" Huh? "I'll be coming into some money." Oh, OK. As we walked home I hear "Look a nickel." then later on the evening walk, "Wow a quarter." Well what ya know!

Tuesday March 24th, 2009 South Padre Island
Cloudy morning. Walked to the beach an observed high tide with on shore winds which reduces the beach area by over 50 %. Home day today which means laundry and Wal Marts and Whataburger. Washed the camper and sat out as the sunshine returned in the late afternoon.

Wednesday March 25th, 2009 South Padre Island
Sometimes something happens that makes a day memorable something so unusual that you never will forget that day. Today is that day!
Mom decided we drive to the Luguna Refuge to do some birding. On the way we stopped at the Port Isabel air port. I wanted to stop there because of the size of the airfield compared to other nearby airports that serve larger communities. Driving up to this remote facility it appears abandon. A very large hanger with broken windows, a tower with the same broken windows (pc). The air field is huge but with grass growing in every crack. I deduce this to have been something from WWII that has been almost returned to nature. There are a few small craft around and one larger jet. The gate was lock so I'll have to do some research to find out about this place.
We made it to the Luguna Refuge, a place we've been to with Nick & Patti a few years ago. We checked in at the visitors center and paid the daily fee, $3, to take the 15 mile driving tour. This is early in the day and in the middle of the week so there are very few people around. We start our drive through the loop entrance and about a block down the road I can see a car stopped at the fork, the start of the loop road. As I drove closer I could see one man standing out side of the car talking with the people in the car. I approached slowly and had enough room to go around the car. Everyone looked at us and I slowed even more, as I pulled passed the front of the car I could see a body laying in the street. I stopped and looked at the people who were doing nothing but looking at us. As Carol asked " Is he alright?" I could see blood all over the side of his face. The man standing said "He's dead." Dead! As your mother asked if someone checked his pulse the man replied "He's shot in the head, the gun is laying next to his head." Looking at the body I could see the exit wound in his right temple, the side of his head was covered in blood, his sun glasses were blown off and lie six feet from the body. He's dead. The man came to the car and said he called 911 and was waiting for the response. We starred in disbelief for some time. Should I take a picture? That's ghoulish. I pulled a head a little and review the situation as we looked back at the body. The body looked posed as if he must of parked his car back about fifty feet then walked away from the car and laid down across the street, placed his right hand on his belly and with his left hand put the gun to his temple and blew his brains out. Should we take a picture? I don't think so. You know the body looks so neatly placed not like he was standing shot himself and tumbled to the ground. Well maybe he was killed and placed there. Oh crap, we don't know anyone here and were a long way from anyone. I suggested to your mother I don't think there's anything we can do here we better roll on.. Slowly we drove ahead creeping off knowing this one-way road loops back around to this same point.
We drove on to the first viewing area and tried to get back on track. We did see a lot of birds also a gator cruising right in front of us (pic). On our continuing drive we did see more unusual critters, a Nilgai antelope from India and a feral hog (pic). About this time we were about half way around the loop when a park ranger pulled up to explain what happened and that they were shutting down the loop. We had to follow him out a back gate.
Went to the Pirates Landing for an early dinner and review the days events, an unforgettable day for sure!

Thursday March 26th, 2009 South Padre Island
Getting back on track today, a little beach-n (pic), little bike-n, and a little bird-n (pic). Then some spoon-n (pic). (Am I tell my age here?)
If you enjoy model making or the results there of, you have see this video from Germany, it is unbelievable. Thanks Ron. (vid)

Friday March 27th, 2009 South Padre Island
Beaching. The other day I picked off the beach a neat little acorn size item that was light in weight, had graining, and was shinny. I was talking with the our neighbor this morning about it while he was washing things his wife collected from the beach. I seen a similar item in his bucket. I asked, and he said these are Nickarbeans, very collectable. People use them for jewelry and stuff. "People collect seeds?" Oh yes it's a big thing, check the web.
We now patrol the beach searching for Nickarbeans, Hamburber Beans, and Sea Hearts. We found some beauties. Nothing compares to what Bindi came up with. Here is a video of her wrestling with her nut. (vid). Bindi loves the beach but when she gets home (pic).
Our collection also Beans on the web

Saturday March 28th, 2009 South Padre Island
Front came through late last night and boy was this place rocking. Temp dropped to 57° this morning by 10 am we were back in the high 70's. We lost our door mat in the high winds. Funny thing the neighbor across the way looks like they bought a new one just like the one we lost.
Drove to Brownsville in the morning to walk the flea-market. It's got to be one of the largest flea-markets ever. There are basically five covered isles ½ mile long plus several isles out in the direct sunlight. I'll bet we walked over four miles in the market. There are several block built rest rooms that are all ceramic tiled and spotlessly clean. Makes Shippy look a little sad. We found something for Glenn, a place to buy SW paint for $6 a gallon (pic). After all that, we walked out with five tomatoes.
I don't know if it's the sun or what, but my memory's not as sharp as it used to be. Also, my memory's not as sharp as it used to be.

Sunday March 29th, 2009 South Padre Island
Nice bright and sunny today so Mom decided we needed to go for a ride. We went to Progresso for a treat, music and a coffee. Errol sent this to me for all the doggie people, Jasmine.

Monday March 30th, 2009 South Padre Island
Windy and warm. Drove to the north end so we could walk the beach and Bindi could be off leash. Winds were a steady 30 to40 mph so we didn't stay out too long. Long enough for Bindi to run herself ragged. She is funny to watch. As soon as we reached the car I popped the trunk. Bindi, in the shade of the rear end, digs away the hot top layer of sand and sprawls out, she's dead tired. We have to coax her into the car. She didn't know we were heading to the DQ for her small cone.

Tuesday March 31st, 2009 South Padre Island
Happy Birthday Emily !
More windy and warm. Actually there was no wind this morning but in the late afternoon she blew big. Took the bikes out this morning Peddled up town stopped at the "Best Mexican Food in Town" Jesse's Cantina. Enchiladas were excellent. We stopped at a few shops and a small museum were we learned more about collecting sea beans. Favorable winds were picking up about the time we were heading home so we used little energy peddling.

Wednesday April 1st, 2009 South Padre Island
April Fools Day! Less windy and warm. Drove over to Port Isabel to have lunch at Manuel's Restaurant, recommended by locals. Mexican and it was delicious. Late in the evening we went for a long walk and in the middle of the walk Bindi told us she walked enough. She slowed up and wanted to go other directions then the way we were walking. At home she hit the couch for the rest of the evening.

Thursday April 2nd, 2009 South Padre Island
Warm sunny windy and hot. These are the days you're thankful for the breeze, without it you would know it's in the 90's. I needed some ink for the printer so I suggested Sam's Club. As I looked around Carol was in the car waiting and the mutt said no and not would leave the couch.
After the shopping we stopped at the Palo Alto Battlefield the battle that the determined the Mexican American border. They have the battle line depicted with flags and canons (pic) (pic). This appears to be a new federal site (pic).
Long hot walk, lots of sun, no water, and only a light early breakfast, we took the short drive to Los Fresno. Guess what sounds good at about 2pm in the hot afternoon. You betchum, One ice cold MGD in a frosted mug! Oh boy did that go down good. We ate our late lunch a Julia's, a popular restaurant in the area, and yes it was Mexican again. Although your mother went for a burger.
How is Bindi doing you ask.. Well I guess she may of been a little lonesome this day cause this what we found at home (pic). Actually that's after the under the table clean-up.

Friday April 3rd, 2009 South Padre Island
Told Bindi we were going for a ride to the north end, to the beach. She turn and went in her cage. Had a hard time convincing her she was going to have a good time. We turned her loose on the beach and she romped and made the best of her freedom. Mom found a more rare purse seed so that made her happy. With both ladies happy I headed home.
Bindi immediately hit the sack, she's done for the day. We headed out, after a short rest, to the bridge where we were told there are lots of hermit crabs who hangout in some neat shells. We gather some, what I call questionable shells, but I was assured they would clean up nicely. Now how should we evict the crabs? That's on hold.
Finished the day with a bike ride to the waters edge to watch the sun go down..(pic)

Saturday April 4th, 2009 South Padre Island
Went to Harlingen for their monthly craft/flea market where several blocks on Jackson street are closed off for the event. In addition this month they had a couple blocks of classic cars which are always fun to see. I found my 1954 Chevy (pic) and Glenn's 1969 GTO (pic). We indulged ourselves with a gigantic funnel cake before departing.
Swung by First Colony on the way home to pickup some literature, boy it's a ghost town there. There are a few rigs there but not many.

Sunday April 5th, 2009 South Padre Island
Talking about ghost towns, our park here on the island is becoming unpopulated, were down to about 50% I would guess. First thing this morning was a trip to Port Isabel for their weekly flea mark. Very small scale and with all local stuff.
Hung around the RV most of the day. The Mexicans celebrate Easter for the entire week, starting this weekend with family outings on the beach, and ending Easter Sunday. Finally late in the day we walked to the beach and it was full of families (pic). It hard to capture how crowded it is in a picture without being able to get the camera up high.
We found a quiet place and sat on the beach and did some people watching. Directly in back of us were two squawking birds. They weren't 10' from us but oblivious to us. One bird was constantly jumping up and down in front of the other bird and squawking loudly in his face. The other just bobbed his head from side to side. Now was this a wife chewing out a hubby or some sort of mating ritual? Well I took this video then this final picture which explains what it was all about (pic).

Monday April 6th, 2009 South Padre Island
Whoa, big winds started last night as I crawled in the sack and continued most of the day today. Temperatures dropped to the low 70's. Obvious cold front moved through and tonight it suppose to go down into the 40's and to warm back up during the day.
We heard of a good restaurant in Port Isabel called The Lost Galleon so we decided to do a late lunch there. Prices were right and the food was excellent. Did fish and shrimp plus two sides, $7.95.
Quiet night at home.

Email:
This video shows that George Bush tried to warn Congress in 2002 that this economic crisis was coming, if something was not done. But congress refused to listen, along with Barney Franks. This video says a lot. YouTube .

Tuesday April 7th, 2009 South Padre Island
Weather stayed warm only got to the low 60's last night. No wind this morning and we're out early for our walk. Took Bindi because the beach is deserted. Well I guess she's not as young as she use to be because a mile or so down the beach she started to flake out, like not knowing were to walk? Huh? She on the end of a string. Well in her defense the sun is bright and the sand is quite warm. We went out to the street to find her some drinking water. She came around and made it home just fine.
We decided to eat in today, plus it time to make ready for travel. Washed the car and will do the motorhome tomorrow, our final day here. Mom's at the laundry and I'm here suffering waiting for cocktail hour, heck it's 3 pm somewhere, see ya!

Email:
Here's a fun to watch video on you tube, Julie Andrews? YouTube .

Wednesday April 8th, 2009 South Padre Island
This will be our last full day here. Not a whole lot to do to get ready. Carol talked to John and Anita who have just returned from PA so we made a lunch date. They arrived around noon and we spent some time gabbing before we went to Daddy's to eat. Meal was very good and we then spent more time catching up on things. We concluded our visit with a trip to the Dairy Queen. Good bye till next year.
Washed the camper, hung the bikes and took care of all the outside stuff. I think we're in pretty good shape to leave. Checked the weather this evening and the winds are suppose to be out of the south so that should help.
I wonder how long before we find a WiFi connection.

Thursday April 9th, 2009 South Padre Island to San Antonio 275 miles gas $1.89 Braunig Lake RV $36 PA $18, map
Good bye South Padre Island! It's been a great visit and we would do it again. Left at 9:00 am with a 30 mph tail wind. The trip was smooth and uneventful. We arrived at our campsite about 5:00 p.m. in bright sunshine and a outside temperature of 101°. "But it's dry heat." Needless to say the air is on and a cold beer is in hand. The park is beautiful with cement drive-through pads for all and full hook ups. Oh yes, they also have free WiFi. The park is about 60% full and thank goodness for that. The sites are tight, fortunately the sites on each side of us are empty.
I was online checking the classmates who were going to your mom's class reunion this year. I Checked on classmate and lifetime friend, Jim Taliseskey, who we had just visited with this past September, next to his name they have "deceased." Holy cow! Your mom called Carol his x-wife for any details. All she knew was that he lived alone in a senior residence and the residents haven't see him for a while and called his brother Ron to check on him. Ron found him at home, he apparently died days earlier. Date of death 1/1/09, no cause known yet..
Boy that was quite a surprise. He appeared in good health and good shape when we had last seen him.

Friday April 10th, 2009 San Antonio to Fort Stockton 319 miles Fort Stockton RV park $24, map
Blue skies in front and all around but we are under a slight and comfortable overcast. Easy drive through downtown San Antonio and even better as we headed more westerly as the breeze was out of the east this morning. Rest area lunch and then more driving. At about the two hundred mile mark of the day, the sun was out in full bloom and the temperature said turn on the air.
We moseyed in to what was once a KOA campground around 4 ish. Nice place located in the barren countryside just east of Fort Stockton. We spent last Easter in Fort Stockton with John & Marilyn. For being in the middle of no where this campground is almost full. I wonder if they are all on their way to the Rally. We have to gas up in the morning cause there in NOTHING around here.

Saturday April 11th, 2009 Fort Stockton to Carlsbad 225 miles gas $1.99 Carlsbad RV $27, map
Rough day today. Good weather favorable winds and off we go. Did nicely all the way to Pecos TX, then a sign said Trucks detour weight limit 11,000 lbs., axle, tandem 11,000 lbs. Our GVW is 14,000 lbs. We are in the middle of nowhere, no one around so I ask myself is that 11K GVW, or per axel??? Being slow up stairs I have no clue. I'm thinking if their restricting at 11K that means it's probably good to 22K so I don't think I would have a problem BUT. I don't know how far down the road the problem is and I don't know how far out of the way the detour is. So what to do? Well we are retired and we have four more days to do 400 miles, so lets do the detour for the extra ride. A hundred miles later we are back on track, the only problem is time. We'll now have to spend the night in Carlsbad instead of going on to Cloudcroft.
At Carlsbad RV we check in and set-up camp. Checking the email we received some real sad news. Our younger cousin Ken Passed away today. We are so glad we had the opportunity to visit him and his children while we were in California.

Sunday April 12th, 2009 Carlsbad TX
Happy Easter ! We decided to sit here another day so we could have a nice home cooked Easter dinner. In the morning we took a little drive north to explore the town of Artesia. First glance the town appears stable and some what prosperous. What we noticed first were the clean windows and streets. Petroleum and agriculture are the industries that appear to rule the economy here. We found numerous bronze statues around the downtown area. Here are several pictures of the statues honoring the oil industry, very impressive. (pics)
Steak and fixens, hmmm good. Spent the rest of the evening loafing. On the road in the morning. We happy to get our annual Easter picture (pic).

Monday April 13th, 2009 Carlsbad NM to Alamogordo, NM 150 miles gas $2.08 Edgington RV $11 PA, map
Wow, we rolling and it's a little after 8: am. Heading north at this point back through Artesia where we bend west. Nice easy ride through some baron countryside. Nothing for miles around (pic). We made Cloudcroft around noon. Basically a sky town and a hot weather getaway for the valley people. We're sitting at 8500 ft. and today's temp is in the hi 60's. There are lot of pines and northern Michigan look about the area. A one road town with the gift shops and a friendly atmosphere (pic).
Leaving Cloudcroft is a down hill plummet to Alamogordo. On the way you have some nice views, here is the valley, Alamogordo, and the white sands on New Mexico (pic). We visited the Whit Sands Monument NP and really enjoyed it. The rolling sand dunes went on mile after mile. The whiteness is not sand it's gypsum that washes from the mountains and settles here (pic).
Bill Vorgitch was stationed at Fort Bliss back in 1958. He traveled to this area on his days off. Bill asked me to take a couple photos so he could reminisces. (pics for Bill) Of course it doesn't look anything like it did 40 some years ago. Heck we were here ten years ago and haven't recognize much.

Tuesday April 14th, 2009 Alamogordo, NM to Carrizozo 56 miles Valley of Fires Rec Area RV $9 Golden, map
We've only been on the road an hour when we found ourselves in the middle of a recent lava field. Low and behold there is a National Campground right in the middle of it (pic). Hard to drive by, pulled in for the day/night.
There is a nice walking path over the rough lava rock (pic) and around some nice plants (pic). It's fun trying understand how this lava flowed through the area. Some places piling up high (pic) and other areas form a gas bubble that has broken revealing a large pockets (pic). The flow started a short distance north of here and flowed south for some 44 miles. This is similar to a lava field we visited some time ago called El Malpais, about 140 miles NW of here..
Catching up on phone calls, Dick, who's in Albuquerque, said it's cold with snow in the morning. (groan). Nick, who is in southern Illinois, said he's running two heaters full blast. (groan). Mike, in Michigan, said they've had two days of rain. :-(

Wednesday April 15th, 2009 Carrizozo to Albuquerque, NM 155 miles Enchanted Trails RV $14.50 PA, map
Bright and sunny with winds out of the south 30mph gusting to 50mph, temperature 75°. First forty miles we are heading westerly so the winds were a little troublesome. I don't think we got any gusts of fifty miles per hour though. Our northerly trek was very comfortable with that little extra boost.
Did the wifi at a supper 8 after stopping at McDonalds only to find they were charging for their wifi. With that out of the way we ended up in Albuquerque in the late afternoon. Our RV park Enchanted Trails is located on the "Historic" Route 66. Seem funny that things from my childhood are called "HISTORIC." Well as Pinky once said "A fact is a fact and you cannot change a fact!"
Phoned Dick, who is staying at a park on the east end of town (we're on the west side), and made some tentative plans for the time before moving in to the Balloon Area, near the Rally home on Friday.

Thursday April 16th, 2009 Albuquerque, NM Enchanted Trails
Forgot to mention the other day when we left Carrizozo we traveled as close as you can by the Trinity Site. Your mother wanted to visit ground zero but the government only opens the site two days a year. Our camp was only about 30 miles from Trinity Site and I think in total darkness we now glow a little.. Trinity Site
Get aquatinted day here. Drove over to the Rally camping area (Hot-air Balloon Area) and found that there must of been over thousand rigs (pic) already there that came in a day early. We stopped in at the "will call" office and picked up the instructions that are normally mailed out, but since we are out of town we opted for will call. We also picked up Dick & Brenda's packet. Next, drove over to the Expo Center (fair grounds) where all the vendors and seminars will be held, to get a feel for the area. Delivered Dick & Brenda's packet, talked for a time and made arrangements to tour Old Town for dinner this evening.
Old Town Albuquerque (pic). We zeroed in on Little Anita's Mexican Food (pic). The meal was excellent and priced right, thank you Dick. We then walked and drove around the area. The architecture is adobe (pic) and on the fringe area we found some interesting homes in what would be call an upscale area (pic) (pic) (pic) .
Tomorrow morning we move to the official rally camping area.

Friday April 17th, 2009 Albuquerque, NM to Balloon Park 16 miles area
Weather is cold this morning slight snow mid day and rain in during night. We didn't have do anything outside so things went well. Looking for warmer weather tomorrow.
Met Dick & Brenda at noon in Wal Mart's lot and from there we caravanned to Balloon Park. As we neared the parking area volunteers can be seen all over, pointing the way (pic). We expected to see a long line of campers waiting to be placed. All the camping areas were marked and with all the helpers everything went very smooth. I guess the down side is that after setting up we have to go and register. Registration is some 10 miles away at the fairgrounds. They have provided trams from the camping area to the bus load station and a bus ride to the fairgrounds. We drove over instead and judging from the traffic I think it was the smart thing to do. We saved waiting in long lines for a return bus ride.
At the fairgrounds there's free parking. We walked to registration and took care of business which went smoothly as well. There are two large building set up with vendors. Touring all the booths in one building took some time and that's only one building. Tomorrow is another day. Returned home for dinner and a short rest before taking in the evening entertainment, Neil Sedaka.
There is a large, what appears permanent, tent set up in the balloon Park. I hear it can hold several thousand spectators. Getting there a half hour early placed us 3/4 of the way back, and that was far back. The show was surprisingly good. Neil is 70 and still sounds good and puts on a very good show. The tent was full. Here is a fuzzy picture of the setup (pic).

Saturday April 18th, 2009 Balloon Park area
Sunny and warm in the mid 70's. Back out to the Fairgrounds to finish touring all the vendors. Bought some new products and visited way to many campers parked out there (pic).
Upon leaving we wanted to try a, new to us, fast food place called "Lottaburgers." You think it may be a take off on Whataburger? By the way there are a few Whataburgers around here not as many as in Texas. The burgers were good but we all agreed not as good as "Whataburger."
The evenings show tonight featured Rita Coolidge. About 3/4 of the way through we left, as did many others. Her singing just didn't get it for us. It was dark outside and a little way away there were seven hot air balloons glowing from the internal flame. I took some pictures to give an idea of what it looks like. (pic) (pic).

Sunday April 19th, 2009 Balloon Park area
Lay back day today. Did go back to the fairgrounds to pick up a couple things. At home the dogs played and played. Mackenzie, a Golden, tolerates Bindi. Bindi hangs on her ears (pic) and when it get too rough Mackenzie gives a deep growl and Bindi backs down (pic).
Tonight's entertainment The Osmond Brothers. Terrific show they really put a great performance. I had to stay home to handle some bad food. Nothing serious.

Monday April 20th, 2009 Balloon Park area
Last day! We're ready to come home. Leaving the first thing in the morning for the long drive home, 1600 miles. Today we did go back to the fairgrounds to see if the "Key" unlocked the treasure box. No big prize for us just a license plate surround that reads Rally 2009.
Tonight's entertainment "Papa Doo Run Run" a six man group reminiscent of the Beach Boys. Half the group are former members of the Beach Boys. Music was good and we all stayed to the final curtain. It's kind of warming to see all these retires clapping and swaying to the music. All thinking they're 17 again. even had a couple dancing in the isle. Here is a link to all the entertainment of the Rally 2009.
Some of the stats, 3800 rigs that must equal at least 7600 people. The tent for the entertainment holds 5000. Parking all the rigs went as smooth as silk. It's going to be interesting leaving in the morning, although a lot left, there is still a massive amount of campers here.

Tuesday April 21st, 2009 Balloon Park, Albuquerque, NM to Amarillo, TX 295 miles, gas $1.93 Amarillo Ranch RV $16.50 PA (map)
Early start, on the road by 8:30 am. Perfect weather day, no wind, crystal clear skies, and warm. Leaving town through the center of town went much much smoother then I though possible. In addition to the caravan of campers heading east there was a two mile construction zone. It was slow at times but we kept moving, so slow that I was able to handle a tech-support problem for Aunt Barb while in the middle of this mess. A couple hours down the road, going through another construction zone we passed a recent accident scene where a fifth wheel camper went off the road (pic) (pic) (pic) (pic). Seeing a scene like that sure wakes you up. Outside of that the ride was uneventful other than Mackenzie dragging me through the rest area.
Happy birthday Dick! since it was Dick birthday we decided to dine out Texas fashion (pic). Lucky your mom picked this place cause you get a free dinner on your birthday, so I didn't have to buy Dick dinner. We are not big eaters, none of us ordered the 72oz.-er. When the big one is ordered your placed at a special table and the timer is set (pic). Your meal has to be cleaned up inside an hour. After dinner it's time to relax a little (pic) (pic). You kind of feel small in Texas. This popular eatery has been around for some time and everyone whose been through Amarillo must of stopped here at least once. The Steaks were delicious as was Dick's catfish. When leaving you get some strange feeling as you pass some of the art work on the walls (pic) (pic). All fun aside it is a real nice restaurant with good food (pic) (pic).

Wednesday April 22nd, 2009 Amarillo, TX to Oklahoma City, OK 254 miles Twin Fountains RV $29 GS (map)
Pictures shown on the 4/19 are working now (Bindi).
Leisurely start this morning. Short dive to Oklahoma City, where we plan to spend an extra day. Dick & Brenda will be going on so they won't be staying at the campground we selected for tonight. The drive was easy although the winds picked up near the end of the trip making for a little swaying. Again we drove past several wind farms on the way. Seeing the size and number of the huge fans still captures my attention (pic).
Twin Fountains RV is one of the nicest Good Sam parks we ever stayed at, large sites and spotless. Here is our site (pic). After my girls got their snooze in (pic) we took a little tour of downtown Oklahoma City. The downtown area is super clean and welcoming. Our first attraction was the memorial of the bombing. As you approach from the street it didn't seem too impressive (pic). Then at closer observation it becomes a little more sad (pic). The rows of chairs dedicated to those who lost their lives here is quite touching (pic). At night each chair is illuminated from belowground. Close inspection revels each person's name on a chair (pic). The reflective pool is done beautifully, the water is without a ripple (pic). Outside wall of the memorial became part of the memorial as the people felt the personal outreach was significant (pic).
We continued on through downtown business district which had the sidewalks all tucked in, to Bricktown the entrance (pic). This is where the night life is, restaurants abound, people milling, a stadium, river walk, and it's all a very inviting atmosphere.
Tomorrow we plan to tour the Cowboy & Western Heritage Museum. The brochures say it's a six hour effort, hmmm. Aunt Barb & Uncle Mike say this is a must stop!

Thursday April 23rd, 2009 Oklahoma City, OK
First thing this morning is the Cowboy & Western Heritage Museum. It's less than two blocks from our park, so we were there shortly after opening 9:15 am. First impression, it's impressive! Hallways are large and the tile floors sparkle. For the $8 fee, you get more then would would expect. This statue graces the main foyer (pic). The museum displays are somewhat grouped. There is an area for Hollywood's contributions (pic), with numerous pictures from popular western movies and movie stars (pic). They've included a small theater where they showed a movie putting it all together. The cowboy area broke down all aspect of the cowboy's life (pic), trail conditions (pic), equipment, rodeo events (pic) were among them. Indians, Civil War, Rifles and hand guns and one well done typical western street. They have a large room with several typical western buildings erected in it. There you walk down a dimly lit street and can go in to the bank (pic) or stable (pic).
It's lunchtime so we visited their Persimmon Hill dinning room (pic). The glass walls overlooked the beautiful grounds. I ordered a turkey club and can you believe what you get for $7.95 (pic). After lunch we walked the grounds (pic). Everything is very well cared for and well kept (pic). There were a few grave sites in the gardens showing their love for their companions (pic). All in all the museum was a very worthwhile visit. We enjoyed all of it, thank you Aunt Barb!
This evening, to walk off the big lunch, we went back to Bricktown and walked some of the river walk (pic). You feel very comfortable down here, I think because it's so clean. We'll don't you know after all that walking we see pizza by the piece (pic). We rested and had a bite... or two.
One more stop on the way home, the Capital building (pic). That's it! Bill I hope I took enough pictures for ya? Now after a good nights rest it's "Look out Saint Clair Shores here we come......"

Friday April 24th, 2009 Oklahoma City, OK to Steelville, MO 417 miles, gas $175 Candy Cane RV $10 PA
Weather perfect day. Stopped about five time today, gas, eat, web, and to just relax. long long drive day but felt food all day long. Quiet out of the way park. First, second choices were filled so took third option. Stopped driving about 7 pm. Homeward bound! Looking forward to hugging everyone.

Saturday April 25rth, 2009 Steelville, MO to Indianapolis, IN 335 miles. gas $1.89 Wal-Mart free.
On the road about 9:15 am. another good weather day. pleasant drive. Stopped in St. Louis looking for the Licorice factory with out success, continue driving on. stopped 6 pm.

Sunday April 26rth, 2009 Indianapolis, IN 335 miles. gas $1.89 Wal-Mart free. to Saint Clair Shores, MI
Should be home 4 pm......

Home....warm weather and all.......2:30 pm.....